Feel the adrenaline rush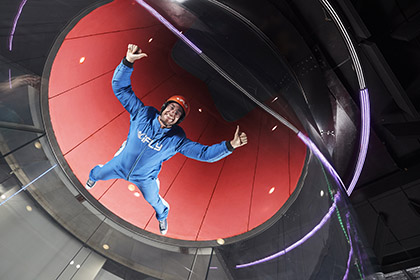 Looking for your next adrenaline fix? Penrith has you covered with an array of indoor and outdoor adventures right on your doorstep.
To help you make the most of your visit we've put together a thrill seeker's guide to a day, or weekend, in Penrith.
We believe you can fly
In Penrith we not only believe you can fly we can help you make the leap. Experience sky diving of a different kind with indoor sky diving at Penrith Panthers. You're guaranteed to get your heart racing as you attempt to master the skills required to soar, plus you can cheer on your mates as they learn through the glass viewing tunnel.
Time to refuel
Energy stores feeling a little depleted? Head to High Street Social for some delicious eats before the afternoon really heats up. We recommend their mouth-watering burgers, bar snacks and share plates, plus they have some great winter promo and banquet menu items too. Enjoy indoor or outdoor dining in the festoon strewn courtyard which also features some awesome street art by some of Penrith's best local artists. Hot tip? Check out their Instagram to plan your order now!
Experience the holy trinity of adventure at Luddenham Raceway
No adventure in Penrith is complete without an afternoon at Luddenham Raceway. Home to a holy trinity of blood pumping activities including go karting, paint ball and motor sports, Luddenham Raceway will keep you entertained for hours with plenty of opportunities to score kudos with your mates.
Make like a Viking at Throw Axe
If you've still got gas in the tank and the rivalry is still friendly, it's time to make like a Viking and head to Throw Axe*. With the help of an 'axe-pert' you will learn to master a wood chopper's throw in a 'dart-eqsue' style competition in which you will collect points and bragging rights off a giant painted target at the end of the thrower's alley.
Down a Drunken Botanist at Mr Watkins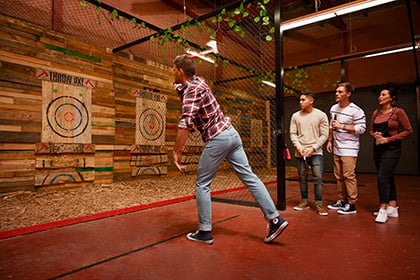 Feeling thirsty? Cap off the perfect day with cocktails, whiskey or wine at Mr Watkins. Hidden behind their street front café by the same name, an antique door leads you into the moodily lit restaurant and bar designed to look like the digs of local Penrith explorer Watkin Tench. While the antique books, décor and taxidermy is truly something to behold, it has nothing on the mouthwatering food and drinks on offer. We highly recommend the Drunken Botanist which features a signature mix of Bacardi Blanca, St. Germain Elderflower Liqueur, Crème De Violet and Lime Juice.
Want to turn your trip into a weekend?
Here are some more attractions, dining and accommodation options to enjoy.
Play
Can't get enough of the action? Check out these great adrenaline attractions
Eat
For fun and relaxed group dining head to
Stay
Penrith has a variety of accommodation options to suit all groups and budgets, check them out here.
*Please note visitor restrictions may apply at some venues, we recommend checking these restrictions with each venue and where possible making a booking before visiting.