Get back to nature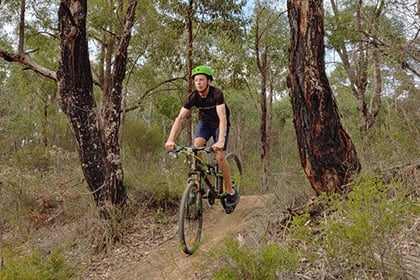 Craving fresh air and open spaces? With so many outdoor adventures to be had it's easy to get back to nature in Penrith.
Located on Sydney's doorstep and set against the backdrop of the Blue Mountains on the banks of the Nepean River, Penrith is the ideal place to unwind and explore.
Views for days at
Riley's Lookout
You've probably heard of The Rock Lookout, but Riley's Lookout in Mulgoa gives The Rock Lookout a run for its money. Access to Riley's Lookout is via the Riley's Mountain Trail, a 2.5km trail (5km return) which starts at the end of Fairlight Road in Mulgoa. With sweeping views over the Nepean Gorge, the whole family will enjoy taking in the scenery that you'll spend the rest of the day exploring.
Enjoy a lazy lunch on the banks of the river
Tench Reserve on the banks of the Nepean River is the perfect place to enjoy a relaxing lunch after the morning's walk. Pack a picnic or treat yourself to fish and chips from Onshore Seafood and enjoy watching the on-water activity or local wildlife.
Get out on the water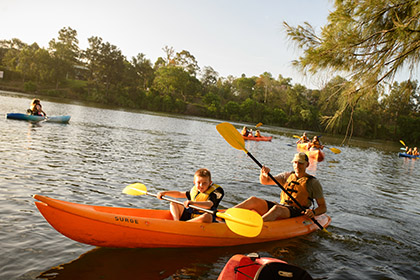 Feeling envious of the kayakers and canoeists you've been watching over lunch? Horizon Line Kayak and SUP hire at Emu Plains can get you out and on the water; where you'll be able to enjoy the serenity of the Nepean Gorge as you travel upriver.
Or
Get o
n your bike
If water sports aren't your thing you can still soak up the scenery by biking or walking the Nepean River Walk. This 7km loop traverses the east and west banks of the Nepean River with two bridge crossings including the iconic Yandhai pedestrian bridge. The Yandhai is one of the best spots to grab a selfie or family pic to remember your day! Shared cycle and walkways make for an easy ride or walk for the whole family. If you're choosing to cycle you will need to bring your own set of wheels.
Time for a caffeine fix
Before you take on your next adventure a caffeine fix is in order. There are so many great places to grab a coffee in Penrith and some of those places just happen to line the banks of the river. We recommend a Campos coffee from the historic Emu Hall or a locally roasted Cassiopeia brew at Café at Lewers located in the grounds of the Penrith Regional Gallery.
Turn it up a notch
If you're a more adventurous biker or your kids are a bit older make sure you pack your mountain bikes and head out to Wianamatta Nature Reserve at Cranebrook for some serious trail riding. Wianamatta is also a great place to experience the local landscape, wildlife and plant life.
For more great walks, hikes and bike trails check out our printable Hikes and Bikes guide.
Stay
Penrith has a variety of accommodation options to suit all groups and budgets, check them out here.
*Please note visitor restrictions may apply at some venues, we recommend checking these restrictions with each venue and where possible making a booking before visiting.