The Ultimate Picnic Locations in Penrith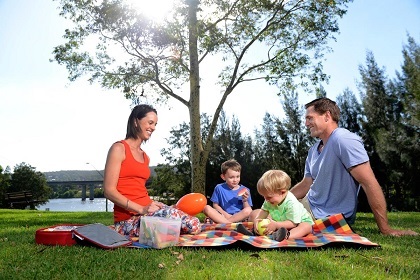 Nothing beats getting together with your friends and family, finding a picturesque location and setting up for a picnic under the sun.
The 'No Fuss' Family Picnic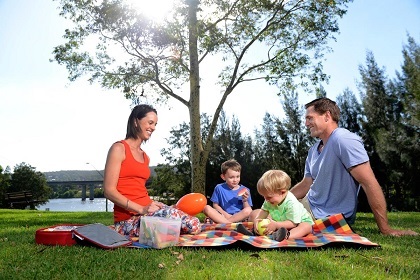 Tench
Reserve
Tench Reserve is Penrith's most iconic picnic site located on the banks of the Nepean River; it's hard to believe that something this spectacular is just a short 4-minute drive from the Penrith CBD!
With an abundance of open space, two playgrounds, free BBQ facilities and public toilets, this picnic location is the perfect spot to bring your nearest and dearest. If you're looking to settle in for the day, there are loads of cafes and eateries close by that offer takeaway dining, including Coffee Club, Eastbank Fish and Chips and Goji Bar.


Sydney International Regatta Centre
With over 178 hectares of bush and parklands, there's plenty of space to relax and catch up with family and friends for a picnic at the Sydney International Regatta Centre (SIRC).
Pack the bikes and scooters and take a ride or walk around the scenic 5km lakeside paths. If you've got a family pooch, they're welcome to come along too (if kept on a leash). Once you're done, choose your spot on the grass and settle in for relaxing afternoon by the water. Pack your own drinks and nibbles, or if you're feeling fancy, grab a takeaway Trio of Dips or Olive Plate from nearby Greek restaurant Avli's takeaway menu (open for lunch from Friday - Sunday). The Lakeside Restaurant is also available onsite at the SIRC (we recommend checking opening times prior), offering freshly made modern Australian dishes.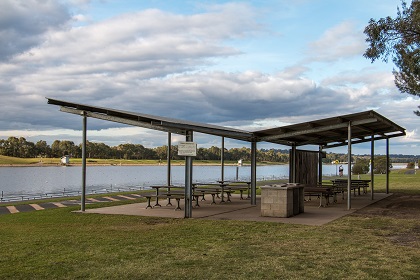 Some more of our favourites include Werrington Lakes Reserve, with large open spaces and numerous seating areas as well as play equipment, a splash pad and BBQ facilities, and Mulgoa Park which has been recently upgraded to include new facilities! More picnic spots here.
Me & You - A Picnic for Two
Weir Reserve
On the banks of the Nepean River sits Weir Reserve, a beautiful, grassy site named after the nearby Penrith Weir.
The ample open space creates a sense of calm and is the ideal backdrop for a couple's picnic. Pack your own drinks and nibbles or grab a bite from one of our favourite eateries and set up your picnic rug under the shade of a tree. It's the perfect spot to read a book, listen to a podcast or just sit and observe the wildlife.
If you feel like exploring, the Weir also connects to the Great River Walk. Take a stroll and discover what this picturesque location has to offer!
The Rock Lookout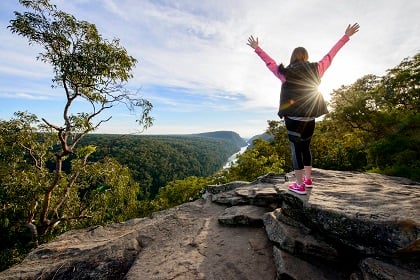 Just a short scenic drive south of Penrith is this hidden gem, The Rock Lookout. If you're looking to impress your significant other, a picnic here will earn you some serious brownie points! After a short walk of only a few hundred metres from Fairlight Road, you'll be greeted by the spectacular views of the Nepean River. Find some flat rocks and set up your picnic.
If you're up for the challenge, there is a longer track of 5.1 kilometres for keen bushwalkers. Make your way through swampy heath and eucalyptus forest to Riley's Mountain where more epic views of the Nepean River and surrounds can be enjoyed.
Don't forget to snap a selfie and tag #VisitPenrith.
A
Picnic with the Guys and Gals
Regatta Park
Regatta Park is the ideal spot in Penrith to gather your besties and have an epic outdoor picnic! Bring along your picnic rug and camping chairs, and don't forget the tunes. Regatta Park is the perfect spot to have a friendly game of cricket or to kick around a footy.
When you're feeling a little peckish, Emu Hall is close by offering a great selection of takeaway options! Free BBQ facilities and public toilets are also available.
Victoria Park
Located in St Marys, Victoria Park boasts a large open reserve with beautiful trees dotted around to create the perfect shady spot for a picnic. When it's time to start thinking about lunch, Cassandras on the Park has an extensive list of takeaway options with something for everyone! The park also features BBQ facilities, undercover seating areas and rotunda.
---
Visit Penrith strongly encourages you to read the guidelines around social distancing in public places before planning your visit. Some destinations may impose restrictions around how they operate, for details please contact the provider. For the latest information about restrictions and health advice specific to NSW, please refer to https://www.nsw.gov.au/covid-19