A Guide to Our Favourite Cafe's in St Marys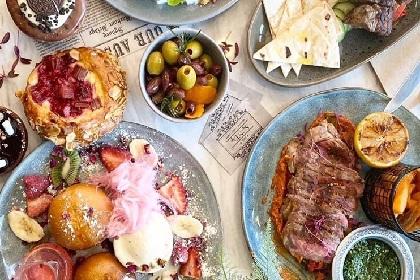 Two words... Queen Street.
If you love a brunch date and taking a cheeky Insta snap of your coffee and cake, then Queen Street in St Marys is the place for you. With an abundance of trendy cafes, your tastebuds and Instagram feed will be spoilt for choice.

Sip 'N' Dip
Opening in late June (and in the middle of a global pandemic!) Sip 'N' Dip are the new kids on the block, or should we say, Queen Street. Sip 'N' Dip can be described as a 'feast for your eyes' because wow, the meals are B-E-A-utiful.
Sip 'N' Dip offers a range of menu items including breakfast, burgers, salads, pasta and more. But the standout on the menu is their selection of desserts, featuring Knefeh Fried Balls (topped with fairy floss!), Caramel Honey Cake with caramel popcorn and a crowd favourite, Chocolate Lava Cake – yum!
Cassandra's on the Park
Cassandra's on the Park is a funky café in the heart of St Marys. Offering indoor and outdoor seating, it's the perfect place to have one of those long-overdue catch-ups with a friend (you know, the ones where you order multiple coffees and treat yourself to dessert!)
The meals at Cassandra's will leave you wanting more – not because you're hungry, the meals are huge, but because they are so good. With new meals dropping regularly, there is something to suit everyone!
Fusion Café
Fusion Café is a café for the community, sourcing locally and supporting other small businesses. They also care a lot about the quality of their coffee. So, if you're a coffee connoisseur, then this is the café for you! They use high-quality beans from Cassiopeia, roasted in the Blue Mountains.
Fusion Café also offers a variety of craft tea, juices, smoothies, toasted sandwiches and other light meal options.
The best part about this café is that all profits go straight back into the youth and community work of Fusion Western Sydney.