The ultimate summer bucket list in Penrith (Top 10 things to do)
Details

Written by

Laura Robinson

Penrith City Council

(02) 4732 7777

(02) 4732 7958

council@penrithcity.nsw.gov.au

https://www.penrithcity.nsw.gov.au

601 High St

Penrith

NSW

2750

Australia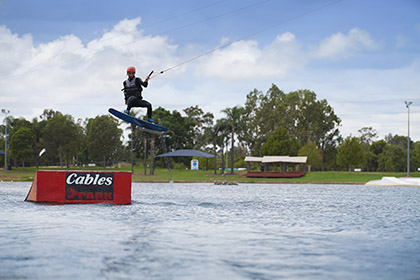 Summer is finally here! The perfect time for outdoor adventures, making memories with friends and eating all the best food on offer...
How can you ensure you don't miss a thing and make the most out of your summer? Well, make a summer bucket list of course! Don't fear, we have done the hard part for you. We have curated the ULTIMATE summer bucket list of things to do right here in Penrith! With this list, you are sure to have the best summer ever. Ready to get started? Let's dive right in!
Penrith White Water Rafting
Experience the thrills and spills of guided and unguided whitewater rafting and kayaking this summer. Penrith Whitewater Stadium offers guided rafting for beginners (12 years and over) and self-guided rafting for the more adventurous (16 years and over). So, if you are looking for some extreme fun, then look no further. Let the friendly staff give you an adventure you'll never forget! Bookings are essential.


Sips and Sounds at the Penrith Regional Gallery
Sit back and relax at Sips and Sounds every Friday from 5-8 pm. Enjoy music, art, food and drinks from Café at Lewers, and listen to the sweet sounds of local artists performing live. Events are currently scheduled until the end of January 2021.


Experience the Nepean River 4 ways
The Nepean River is one of Penrith's most iconic natural features and is a must do when completing your summer bucket list. There are so many ways to experience the river, whether that be on land or on the river itself! You can opt to cruise along the river on the romantic old style paddlewheeler, the Nepean Belle, or get up close and personal on a guided fishing tour or eco tour with Nepean River Tours. Take a stroll, or try and make a personal best on the Great River Walk track. Feeling more adventurous? Explore the majestic river by hiring a canoe, kayak or stand-up paddleboard from Horizon Line.


Make a splash at Cables Wake Park and Aqua Park
Cables Wake Park in Penrith is a must do this season! Try cable skiing, wakeboarding or kneeboarding at this world-class facility. An addition to the Cables Wake Park, is the Aqua Park area at the back lake. It's got inflatable slides, runways, jumping pillows and a floating course! It's the perfect place to cool off this summer.


Take a Jet Pack Adventure
Experience the thrill and excitement of flying above the water with Jetpack Adventures at the Sydney International Regatta Centre! Jetpacking allows you to fly through the air as high as 10 meters above the water, propelled by two jet nozzles attached on your back within a pack. Hand controls allow you to steer yourself in whatever direction you want to go!


Share a 1-metre pizza with your besties at Emu Hall
Emu hall has quickly become one of the hotspots in Penrith for all things, food, cocktails and Instagram pictures! Their impressive menu has something for everyone...literally! This also includes a whopping 1-meter pizza (savoury or dessert)! It's the perfect way to spend the afternoon with your besties, eating, sharing cocktails, and taking in the view of the beautiful Nepean River.


Go fast and go hard at Luddenham Raceway
Luddenham Raceway is the best outdoor go-karting centre around town. With loads of fun to be had, this facility includes a rookie circuit and a pro circuit, as well as a Paintball field! The motorsport park also has a 1.4km circuit for cars, motorcycles and karts, with dedicated track days.


Wine and dine at Allan Grammar
Boasting delicious food, boutique wine and a classy atmosphere, this wine bar is the perfect date night location for you and your significant other. The bar is undoubtedly the centrepiece of the space showcasing the large range of boutique wines on offer along with ales and ciders. The menu is a mix of small plates and larger share plates plus a range of cheese plates and desserts.


Take a ride on the wild side!
Discover Penrith and the surrounds on the back of a Harley with Wild Ride Motorcycle Tours. Tours range from one hour to full-day customised tours and explore Penrith, the lower Blue Mountains or the nearby Hawkesbury region!


Take a tour of the Sun Masamune (Sake Brewery)
Did you know Penrith is home to the only sake brewery in Australia? Visitors can tour the factory, taste their sake and purchase something from the cellar door. Try out their beautiful skincare range which includes soaps and moisturiser. Open weekdays only.
---
Visit Penrith strongly encourages you to read the guidelines around social distancing in public places before planning your visit. Some destinations may impose restrictions around how they operate, for details please contact the provider. For the latest information about restrictions and health advice specific to NSW, please refer to https://www.nsw.gov.au/covid-19