Affordable fun for kids in Penrith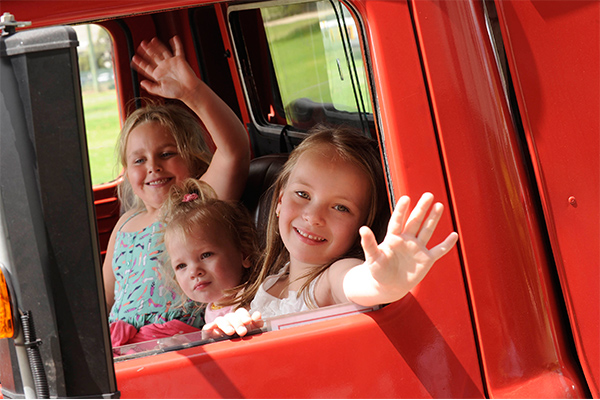 Keep your kids occupied and entertained with lots of fun and affordable activities in Penrith.
Museum of Fire
Take the family to explore the drama and danger of fire and firefighting at the Museum of Fire. Seven days a week from 9.30am - 4.30pm, aspiring junior firefighters can take part in a day of adventure and exploration with fire safety activities, computer games, puzzles and dress ups. There's also an impressive collection of fire-fighting vehicles and memorabilia so kids (and parents!) can learn a thing or two about the history of fighting fires in Australia. Entry is just $6 for kids and $28 for a family of four – this is a fascinating and exciting day out for kids and families.
Aqua Golf
Before hitting the green, aspiring golfers can practise their golf swing at Aqua Golf in Penrith. Here the aim is to hit balls into targets located randomly on the lake (meaning there is absolutely no golf skill required) so this activity is fun for kids and adults of all ages. Those who do manage to hit the targets can claim up prizes and $100 in cash. There is no entry fee, you just pay for your bucket of balls. Prices start from as little as $9 for a bucket and golf clubs are supplied. The large undercover area also means you can enjoy a round of golf, no matter what the weather is like. Winning!
Model Park
The Sydney Society of Model Engineers Inc. is the oldest model engineering club in Australia and the oldest continuously operating Model Engineering Club in the world and lucky for us, their headquarters are located on a large rural property in Luddenham! They happily share their collections and enthusiasm for model steam, diesel/electric or electric powered locomotives when the Model Park opens to the public on the last Sunday of every month (except December). Kids young or old can also ride on the Passenger Steam Railway as well as try out the slot cars circuit. There's BBQ and canteen facilities, a playground and all for just $15 entry per car.
Footgolf
It's the sport that's taken the world by storm, Footgolf is a combination of football (or soccer to us here in Australia) and golf, and it's a great way for kids and their friends to be active and have fun at the same time. The game largely follows the rules of golf, and there's no referee. The 9-hole course at The Colonial Golf Course in Werrington offers Footgolf between 11am- 3pm seven days a week. The cost is $12 for a round (on weekends) or just $7 on a weekday. Bring your own soccer ball to keep the cost event further down, or hire one for $5.