Five free things to do in Penrith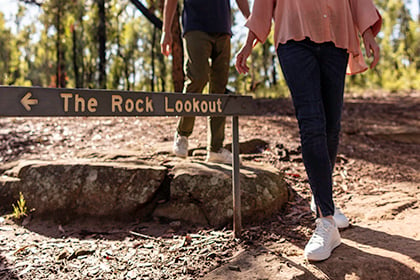 Low on cash and looking for ways to get out, get active and be entertained? Well, put away your wallet and take a look at this list of free activities in Penrith.
Take in the scenery
Did you know there's an amazing lookout in Penrith? After a short bushwalk only a hundred metres from Fairlight Road in Mulgoa, you'll reach The Rock Lookout where you'll be greeted with sweeping views of the Nepean River. It's the perfect place to sit, relax and take some time for yourself, or if you're with a friend or family, pack a small picnic and take in the beautiful scenery together!
There's also Mountain View Reserve, one of Penrith's hidden gems! Nestled on the outskirts of Cranebrook, the reserve has a 1.8km easy grade track that leads you up a hill to a spectacular viewing platform. From here you can enjoy views of the Penrith lakes and Blue Mountains! There's also plenty to see on your way up, including many species of wildlife, some rare and unique to the area.
Get active
Put your activewear on and get your walking shoes ready! The Great River Walk is a scenic 7km loop that takes you from Penrith to Emu Plains (or vice versa depending on where you start). The track is suitable for walking, running, biking, scooting and skating too. Find the map here.
A short drive from the Penrith CBD, hidden in Mulgoa, is Fernhill Estate. The stunning property offers a 2.6km walking loop of the estate, where you tour the grounds and outside of the homestead. Open from 10 am-12.30 pm and 1 pm - 4 pm on weekends – registration essential.
And there's no need to stop there. Penrith offers 27 walking, cycling and exercise trails, right across our City. Find our free Bikes and Hikes map here.
Explore the arts
The Penrith Regional Gallery is situated on the banks of the beautiful Nepean River and offers visitors the opportunity to experience an ever-changing program of exhibitions while enjoying the spectacular views of the River, native wildlife, plants and flowers along the riverbank. Exhibitions are free!
If street art is more your style than it's time to explore the vibrant and unique pieces that liven up our cityscape. Take a walk down Queen Street to explore the St Marys street art trail or head to Penrith CBD to see the bold murals from ReAnimate Penrith. Don't forget to tag us in your Instagram pictures using #visitpenrith.
Browse the markets
Stroll through one of the many specialty markets Penrith has to offer! Browse the trinkets, delectable treats and hand-made goods, and maybe even pick up a bargain. Regular markets take place all year round, including! Check out the event page for upcoming markets this month.
Soak up some Lunchtime Tunes
Did you know you can enjoy two days of free lunch time entertainment right here in our City? Every Wednesday, Lunchtime Tunes ring out in Coachmans Park, St Marys, while on Fridays, talented local musicians can be heard in Triangle Park, Penrith. Take a picnic, sit back and enjoy the music from 12pm to 2pm.
---
Visit Penrith strongly encourages you to read the guidelines around social distancing in public places before planning your visit. Some destinations may impose restrictions around how they operate, for details please contact the provider. For the latest information about restrictions and health advice specific to NSW, please refer to https://www.nsw.gov.au/covid-19