Get to know Penrith's sake brewery
Details

Written by

Jane Ewings

Penrith City Council

(02) 4732 7777

(02) 4732 7958

council@penrithcity.nsw.gov.au

https://www.penrithcity.nsw.gov.au

601 High St

Penrith

NSW

2750

Australia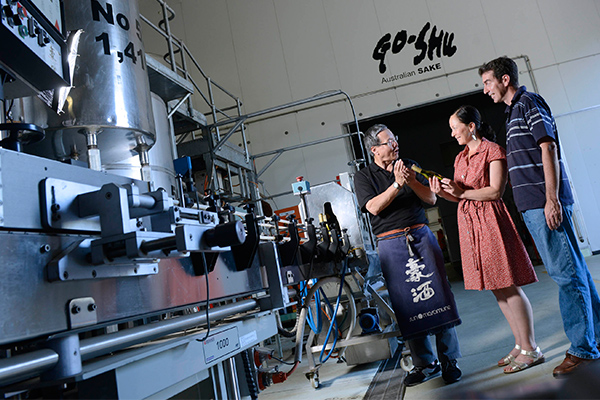 Sun Masamune exports sake to Japan from the banks of the Nepean River.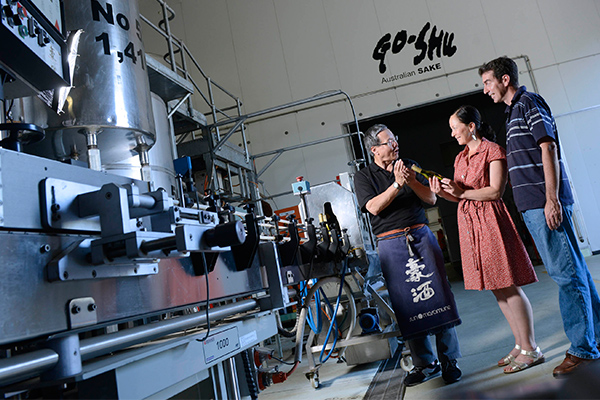 In a picturesque pocket of Penrith just a few short metres from the Nepean River, and with the sound of the running rapids and bluebirds in the distance, you'll find Sun Masamune sake brewery. Yes, Penrith has a sake brewery. It's Australia's only sake brewery and it exports sake across the globe including to Japan – the sake capital of the world.
We know what you're thinking; if the sake experts in Japan are swilling sake that's been made in Australia, then it must be pretty good. And you're right! Sun Masamune has been producing sake in Penrith for the past 30 years, so they know what they're doing. Using the very latest in sake production technology, Sun Masamune creates high quality sake under the Go Shu brand.
Go Shu sake is the only sake in the world that's made with Australian water and rice. These two-key elements set it apart from other brands of sake, and elevates the flavour to a whole new level. The Australian ingredients gives the sake a softer, more rounded finish compared to Japanese sake which can be crisp and sharp.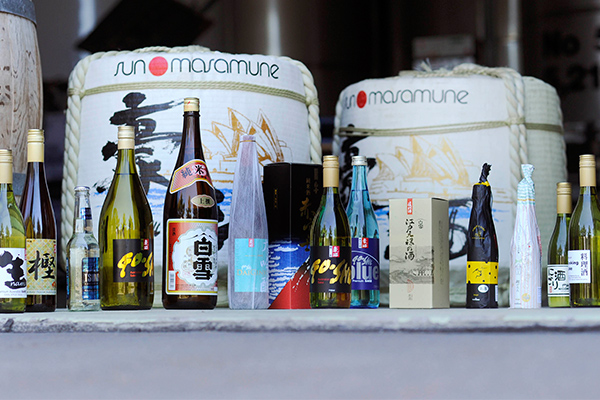 The Go Shu range of sake products is enjoyed in homes, restaurants and bars across Australia and the world. If you're starting to feel like you're the only one not on board the sake train, don't worry. We're here to make sure you know all about the many uses and benefits of sake:
Sake contains 20 different kinds of amino acids. Three of these amino acids (valine, isoleucine and leucine) are known to prevent muscle fatigue and pain. So sake is an ideal beverage to enjoy after a hard day's work or even after your workout.
The amino acids in sake have many health benefits. They can prevent cancer and trigger brain function, prevent cirrhosis, osteoporosis, and lower cholesterol and slow the ageing process.
In addition to other Japanese seasonings such as mirin, soy sauce, dashi and miso, sake can be used in cooking to open up a whole new realm of flavour. Next time you have a recipe that calls for the use of wine, including sauces and marinades, try swapping for sake instead.
Sake has the same alcohol content as wine (15%) but you're less likely to get a hangover after consuming sake because it has lower acidity and contains no sulphites, preservatives or histamines.
Sake is a gentle and delicate mixer, easily blending an earthy dry, delicate flavour to any traditional cocktail. Why not try replacing spirits with sake in your next cocktail?
The Japanese sake brewers who spend much of their time handling rice have long been renowned for their silky, soft hands. Known as Nuka, the white rice bran by-product of sake is rich in vitamins, minerals, proteins and essential oils and is said to have a wide variety of skin benefits.
One bottle of sake takes approximately 4-5 months to produce. This includes 2 months of processing, and 2-3 months to allow for ageing/maturation before it's bottled, packaged and shipped.
The Japanese characters for Go-Shu have a double meaning: when written they mean Australian Sake, but phonetically they mean Australia.
Sake has had an important role throughout the evolution of Japanese society. In early times, sake drinking was an integral part of celebrating the harvest and was offered to the gods when praying for peace and prosperity.
Sake is a very versatile drink… it can be served at room temperature, chilled, warmed or diluted and can be enjoyed either mixed or alone but preferably not on your own. KAMPAI!
Sun Masamune is open weekdays only. You can purchase products online or from their cellar door, and tours of the brewery can be arranged. Bookings are required.