Penrith hits the bullseye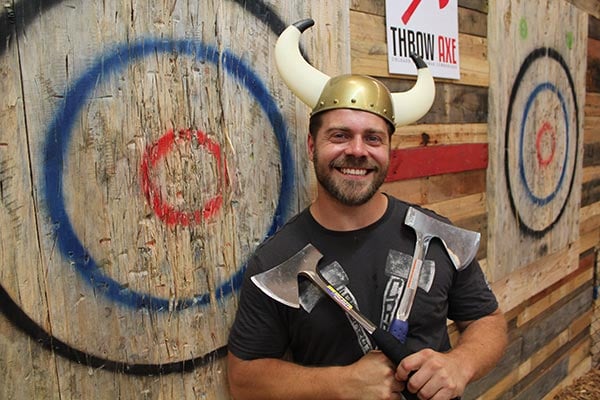 If you've ever wanted to throw an axe (and really, who hasn't?) this one's for you. Throw Axe is now open in Penrith so get ready to unleash your inner lumberjack.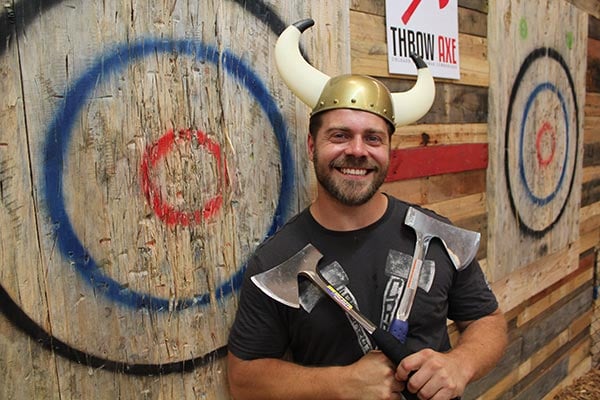 If you like playing darts, you're going to love throwing axes. This exhilarating sport is based on the same principles: aim for a target, throw and try to get the highest score. There's just one minor difference, you're throwing an axe instead of a dart.
So if you're keen to channel your inner Braveheart and feel the thrill and excitement that comes from throwing an axe, head to the recently opened Throw Axe in Penrith – only the third axe throwing venue to open in Australia!
Here's the answers to some FAQs to read before you go.
How do you play?
No experience is needed – supervisors will be on hand to help you out! Throw an axe at the timber board which has three rings, each a different colour. The red ring in the middle of the board is worth 5 points, the blue middle ring is worth 3 points while the black outer ring is worth 1 point.
On your last throw you aim for the green dot on the top of the board which is worth 7 points and is called the 'game changer'. Your aim is to get the highest score to move to the next round and ultimately be crowned Throw Axe Champion.
A minimum of 6 people are needed to play. Large groups can compete in a round robin double elimination, while there are different games available for smaller groups.
How much does it cost?
A 2-hour session costs $55.
Is there an age-limit?
You need to be 16 years or over, and if you're 16 you need to be accompanied by an adult (18yrs or older).
Can I bring my own axe?
The answer is NO. Your safety cannot be guaranteed if you use your own axe, so stick to using the specially made metal axes supplied to you at the venue.
Do I need to book?
Opening hours are flexible but bookings are essential – you can book online.