The best places for Christmas drinks
Details

Written by

Jane Ewings

Penrith City Council

(02) 4732 7777

(02) 4732 7958

council@penrithcity.nsw.gov.au

https://www.penrithcity.nsw.gov.au

601 High St

Penrith

NSW

2750

Australia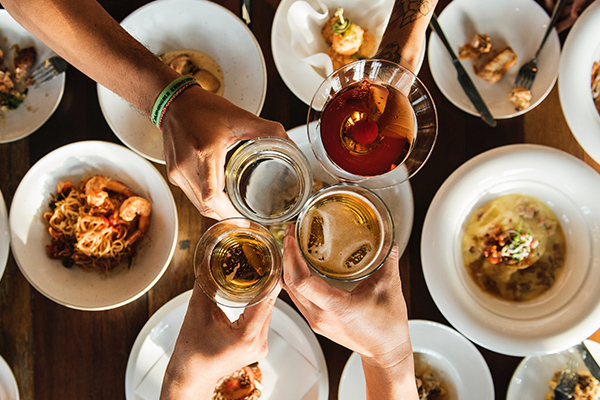 It's the silly season after all and if you're planning celebration drinks we've got your guide to the best bars in Penrith.
A relaxed vibe
Take a seat in the heritage garden at Penrith Regional Gallery for a magical evening of Sips and Sounds each Friday (during summer months) from 5pm-8pm. The best option for drinks here are the jugs of summer cocktails. Because it's summer, and it's Christmas, and why not!? Try a jug of the Lewers Sparkling Punch ($30) which has tropical fruit punch with sparkling wine, fresh mint and berries; or a jug of Miss Ginny ($30) which features Lewers signature lemonade gin, fresh mint and passionfruit. You can also purchase light meals and bar snacks while being serenaded by local musicians. It's got all the perfect ingredients for a relaxing, summer's evening.
A rowdy night out
Mr Watkins is a restaurant and bar named after explorer Watkin Tench. It's decorated to look like his 17th Century study; filled with books and leather chairs, antique pictures and lots of empty bottles of wine. The decor sets the scene for a heady night out where you easily lose track of whose round it is, and generous servings leave you full and festive. Their huge cocktail menu makes it hard to choose; we suggest you try Drops of Juniper ($20) featuring Botanist Gin, Green Apple Balsamic, Juniper and Rosemary Syrup, Lemon Juice and Egg White. There's also an extensive range of beer and wines to choose from, plus a menu of bar snacks, share plates and hot dogs. Yes hot dogs!
A party atmosphere
High St Social is where you need to go to get the party started this festive season. Large cubicles, tables and an outdoor beer garden means there's plenty of room and lots of different spaces for groups to mingle and be merry. Their menu is bursting with drinks and food that's made to be shared; pizzas, burgers, tacos, nachos, chicken wings, fries and fish bowls (though not the seafood variety). The Fish Bowls cost $50 each, but come with multiple straws for sharing. There's three flavours to choose from: Mariana Trench, Pacific Magma and Tropical Lagoon. Bottoms up!
An intimate gathering
The quiet wine bar that is located directly underneath the bustling Union Restaurant is officially (and affectionately) known as Penrith's smallest bar. The Union Bar is where to go for an intimate Christmas gathering where you like the wine to be good and the conversations to be great. Enjoy something special from their cocktail menu including a Brazilian Caipirinha ($14) made with cachaça, fresh lime and ice. There's also a generous wine list, and a bar menu to sample the delicious food from the upstairs tapas restaurant.
A fun and flirty time
Grab your friends together for a fun night of cocktails and Cuban flavours at Coco Cubano. Every night there's Happy Hour from 4pm-7pm and if that's not enough to get you excited, then their sunshine inspired menu of food and drinks will. A jug of Sangria (that's 1.1 litres) is just $25, and there's a great selection of refreshing drinks to choose from including their Speciality Mojito ($15) which includes Havana Club Rum, raw sugar, mint, fresh lime, soda with your choice of passionfruit, mango or lychee. There's plenty of food to bring some spice to the night including Fajitas, Tacos and Burritos and more.