When you need something to eat, take a stroll down Riley Street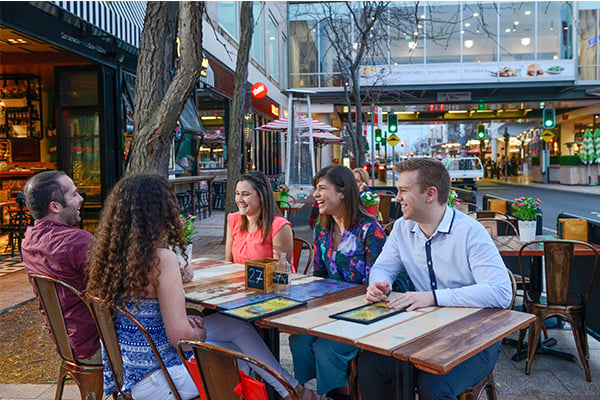 Your guide to Penrith's vibrant dining precinct.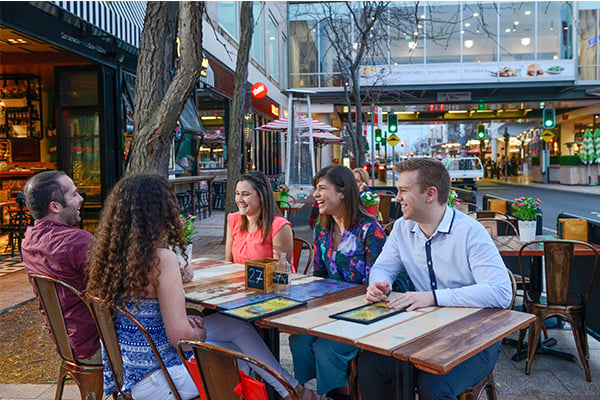 Whether you're in the middle of shopping and want something light to eat, need a quick take-away meal after work or you're after an enjoyable sit-down meal with family and friends, Riley Street is the go-to place for all your dining needs. This relatively short street is tucked away between two Westfield Buildings but it holds its own when it comes to dining options. From cafes and restaurants, to burger joints and dessert bars – there's something for everyone.
If it's comfort food you're after, head over to the Bavarian restaurant. You'll find all the German classics you know and love including schnitzels, sausages, and the good ol' pork knuckle but there's also a range of modern dishes which have been given a German twist including chicken wings, hot dogs and even burgers.
If it's pizza you're craving, Fratelli Famous Pizzeria is for you and the best part is that you get to decide on your toppings. Mix and match your favourite ingredients to create your own delicious pizza topping which goes straight into their wood fired oven and then it's ready in 90-seconds. That's fast and super fresh.
Keeping with the Italian theme is Sittanos which offers authentic dishes including pasta, pizza, seafood and all the sweet desserts the Italians are known for. There's ample space to sit and dine making it the perfect place to bring your family or friends, and there's also a yummy kids menu and activities to keep kids happy and you relaxed.
For something quick and easy, there are a few options to choose from which offer both dine in or takeaway. Grill'd has a menu that's packed with tasty and healthy burgers, all made using premium ingredients sourced from local suppliers. There's delicious noodles on offer at Stir Crazy, sushi at Sushi Bay and Mexican at Mad Mex.
If you're after Thai food with a modern twist, then a truly unique and memorable experience awaits you at Chilli Jam. Their menu energises timeless favourites and features a refreshing take refreshing take on traditional flavours, a visit here will not disappoint.
Finally, when it's time for dessert and you need something sweet and incredibly satisfying head to San Churro, Gelato Messina or Yogurberry. Just make sure you plan ahead and wear your stretchy pants.
Hungry? Explore some of the other great places to eat in Penrith.