Your guide to Real Festival 2019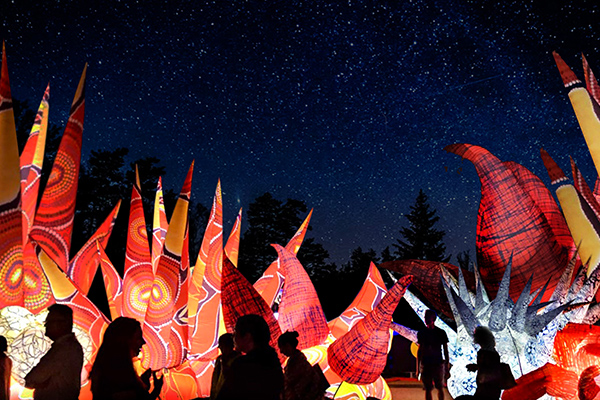 Penrith's signature event is back and here's what you need to know.
Real Festival is taking over the Nepean River for two-nights and one glorious day on the first weekend of November. Firstly, block that weekend out in your calendar (Friday 1 and Saturday 2) because you'll want to be in Penrith for this. Secondly, the 2019 program is bigger than ever so you'll need to start planning what you're going to see, do and eat. We've put together this handy guide to help you get started.
Location
If there was a prize for the most beautiful location for a festival Real Festival would, at the very least, be a strong competitor. But more likely the winner. This event transforms the riverbank with a spectacular program of art, performances, activities and entertainment and the result is a magical wonderland of colour and creativity set against the magnificent backdrop of the Nepean River and Blue Mountains. See, we told you. Clear winner.
During the day, the event is all about having fun with immersive experiences the whole family can enjoy including kayaking on the river, origami making, illustration workshops and even a native animal show to name a few. Then at dusk the festival atmosphere really comes alive with spellbinding stage shows, illuminated art installations and live music to dance the night away under the stars.
Art
Prepare to be properly amazed because Real Festival's outdoor art gallery is like no other. In this gallery there are no walls or floors and some artworks stand towering amongst the trees, while others are so intertwined with the space it's hard to tell where the art stops and nature begins. The curated collection of interactive and illuminated art installations shine, move, twinkle, twist, glow and even make noise.
Some highlights include an Aboriginal art collaboration Red Air which is big, bold, bright and inflatable; and the gentle giant Leor, who stands four-metres tall and only comes to life when festival attendees move his string to create a spellbinding String Symphony. And if you think you're hearing things it could well be Drones Diapasons and Their Absences – an interactive and immersive sound installation nestled amongst the trees.

Entertainment
This year the clever people behind Real Festival have searched the globe for the very best musicians and performers to create a world-class program of entertainment for us all to enjoy.During the day you'll be kept engaged and be amazed by roaming entertainers, bright and bubbly kid's performers and interactive shows which make learning fun.
Highlights include the critically acclaimed production Splash Test Dummies - a hilarious fusion of circus, acrobatics and comedy; and Uptown Brown, the one-man-band who'll be singing, playing and swinging his way across the Festival. After dark the festival lights up with a headline performance of epic proportions: All That We Are is a breathtaking aerial spectacular set on land and in the air – involving 30 performers and a crane.
Food & Drink
There's a special happy feeling you get when you know that you don't have to cook dinner or make lunch. You know it right? And on the first weekend in November, you can thank Real Festival for this. The best of Sydney's popular food truck scene will be there complete with the colour, sounds, smells and tastes that you all love. Whether you're after a snack or a meal, you like savoury or sweet, or prefer veggies over meat – there's something for everyone to savour or just devour.
Our top picks includes Lucio Pizzeria (voted Australia's best pizza), Dairy Extraordinary, and Stroopbros for magnificent waffles. When you're ready to have a drink, there's Real Festival's outdoor riverside bar. With a menu of food and drinks including speciality cocktails, beer, wine and cider - we dare you to find a more stunning place to enjoy a drink and catch up with friends.
Now that we've whet your appetite head to the Real Festival website to view the full program and to start planning your trip to Penrith for this amazing event.