See our city come to life this November with ReAnimate Penrith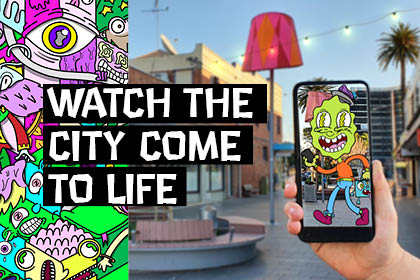 Penrith is set to explode into a wonderland of art, exploration, technology and fun this November!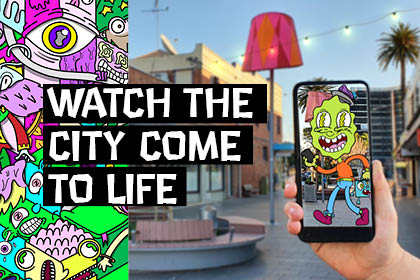 ReAnimate Penrith invites you to explore our city in a new way! This November, embark on a self-guided journey down High Street, unlocking a new and exciting digital world. Discover whacky 3D creatures and fun animated experiences! Intrigued?
Begin your ReAnimate journey in Triangle Park. Using the ReAnimate App, you can become an AR explorer! What's AR you ask? Augmented reality! Combining art and technology, augmented reality brings a physical space to life through your smart device. Uncover quirky characters, hidden 3D animations, animated artworks and immersive street art that comes alive with animation and sound. Take your time exploring, meander through High Street, discover hidden arcades and pop into some of your favourite boutiques and local cafes along the way.
For the first time ever, see our city become an outdoor art gallery featuring some of Australia's most talented street and mural artists. Watch the magic happen as each mural is completed live during ReAnimate. Two of the spectacular pieces will have the added AR experience. Using the app, point your phone towards the artwork and watch the artwork burst to life. Discover art on a whole new level! Enter a new world as the artwork jumps out from the brickwork, surrounding you, taking you into a 3D animated wonderland.
Looking to get away for a night out? The ReAnimate Penrith night trail is for you! Using the app, discover some of Penrith's finest bars and restaurants. Keep an eye out for coasters and scan the QR code to experience bespoke animations!
There is so much to experience at ReAnimate this November! Using the checklist, be sure to tick off each animation so you don't miss out on all of the fun.
Can't make it out? Bring the fun into your home! Head to www.reanimatepenrith.com.au to download a printable ReAnimate Penrith colouring activity. Let the little ones have some fun and express their creativity with colour. Once they have finished their creation, it's time to bring their masterpiece to life! Combining technology and art, the ReAnimate Penrith App will transform your unique creature into a 3D animation that jumps off the page! Have fun creating your creature, snapping some pics and sharing videos! (Hot tip – head to the ReAnimate Penrith Facebook page to learn more about the colouring competition!)
Experience ReAnimate Penrith at your own pace. The event runs from 1-30 November, but there are no set days or times; personal safety is paramount, and the program is designed to be experienced while safely social distancing.
Re-discover our city at ReAnimate Penrith this November!
View the full program at www.reanimatepenrith.com.au and download the ReAnimate Penrith App from the Apple Store or Google Play.
Follow the social pages for more updates and sneak peeks!
Instagram: @ReAnimatePenrith
Facebook: ReAnimate Penrith
Share your experience using the hashtag #reanimatepenrith