Ever dreamt of flying through the air? It's possible in Penrith
Details

Written by

Adam Gatt

Penrith City Council

(02) 4732 7777

(02) 4732 7958

council@penrithcity.nsw.gov.au

https://www.penrithcity.nsw.gov.au

601 High St

Penrith

NSW

2750

Australia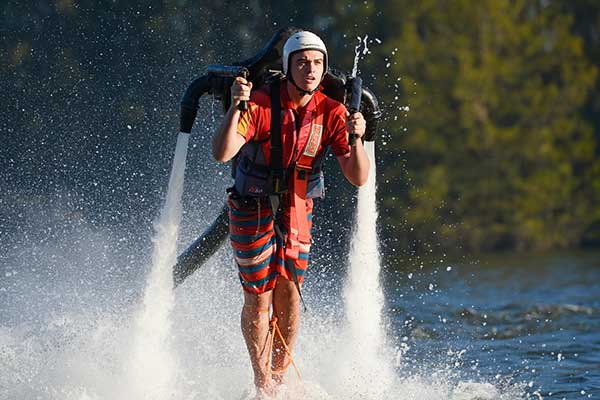 Jetpack Adventures operates out of the Sydney International Regatta Centre, which is approximately 50 mins from Sydney's CBD.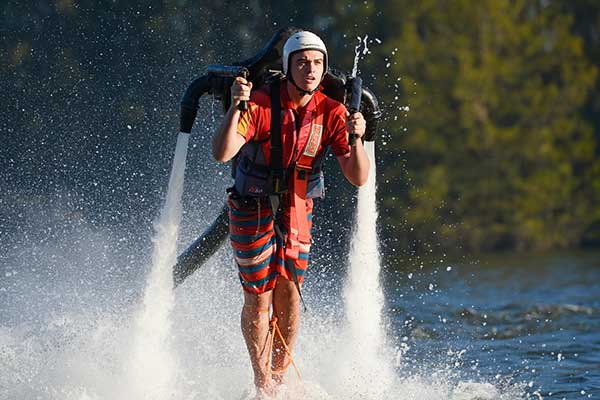 Inspired by James Bond, they introduced jet packing to Australia in 2012 and since then, they have been giving the gift of flight to thrill seekers of all ages.
Jetpacking allows you to fly through the air as high as 10 metres above water, propelled by a 20-meter hose and 2-jet nozzles attached on your back within a pack. You are strapped in by a five-point harness, so it's completely safe, and hand controls allow you to steer yourself in whatever direction you want to go.
Taking inspiration from another cinematic action hero, this time Marty McFly from the Back to the Future series, Jetpack Adventures have created an exhilarating new hoverboard experience known as Flyboarding.
Flyboarding gets you flying through the air with a water propelled jet attached to your feet allowing you to dive through the water like a dolphin or soar through the air like superman – yes this can actually happen!
Each activity can be booked for either a 30min, 45min or 60min session, or if you can't decide between the two you book a combination package with prices starting from $199. There is no minimum age requirements, however you do need weigh more than 40kgs to have a go.
While you're up in the air, don't forget to take in the sweeping views of the Blue Mountains and Penrith Lakes and make sure you bring your camera to capture the moment. If you'd prefer a professional shot you can always purchase images on the day.
To find out more about Jetpack Adventures.