Ever dreamt of flying through the air? It's possible in Penrith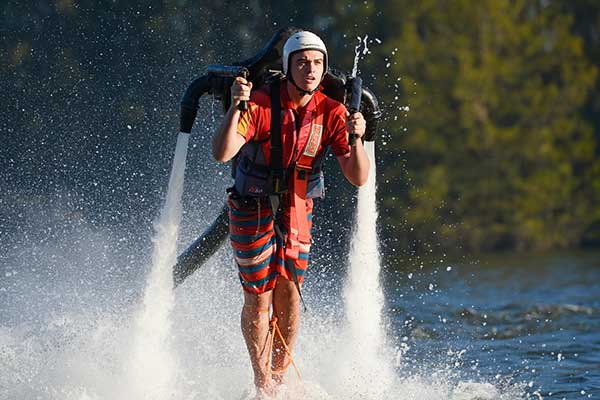 Experience the thrill and excitement of flying above water with Jetpack Adventures.
If you ever watched your favourite superhero soar and thought you'd like to give this flying thing a go, well you're in luck because Jetpack Adventures is taking adventure to new heights in Penrith. Strap a backpack on and fly through the air, or jump on a board to soar above the water - the choice is yours.
Jetpacking
Jetpacking allows you to fly through the air as high as 10 metres above water, powered by a patrol 4 stroke motor and propelled by a 20 metre hose and two-jet nozzles attached on your back within a pack. You are strapped in by a five-point harness, so it's completely safe, and hand controls allow you to steer yourself in whatever direction you want to go. Fun fact: You could cruise up to 25 kilometres an hour for up to two hours!
Jetboarding
Taking inspiration from other cinematic action heroes, this time Iron Man or even Astro Boy, Jetpack Adventures have created an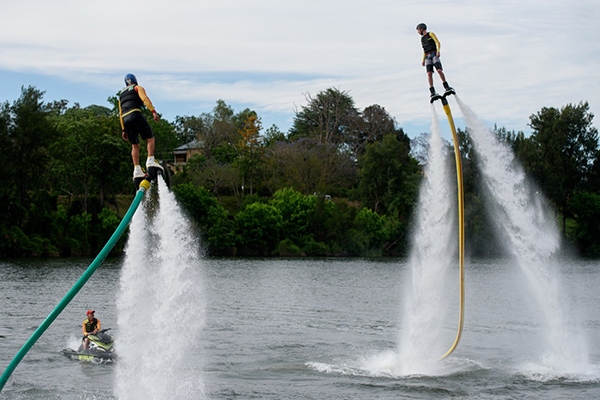 exhilarating new experience known as Jetboarding. Jetboarding gets you flying through the air with a water propelled board attached to your feet allowing you to dive through the water like a dolphin or soar through the air like Superman – yes this can actually happen!
So which one should you choose - Jetpacking or Jetboarding? This is a hard one to answer. Each device has different challenges, and has different rewards! The Jetboard is the most popular, but our suggestion is to decide on the day and see how you go in the training session. If it's not working, swap to one of the other options.
Each activity can be booked for either a 30min, 45min or 60min session, or if you can't decide between the two you can book a combination package. Prices start at just $135 per person for a solo flight and there are also group packages available if you want to bring a group of friends, colleagues or your family. There is no minimum age requirements, however you do need to weigh more than 40kgs to have a go.
While you're up in the air, don't forget to take in the sweeping views of the Blue Mountains and Penrith Lakes and make sure you bring your camera to capture the moment. If you'd prefer a professional shot you can always purchase images on the day. Interest? Excited to give it a go? We're excited for you. Find out more about Jetpack Adventures.