Kayaking on the Nepean River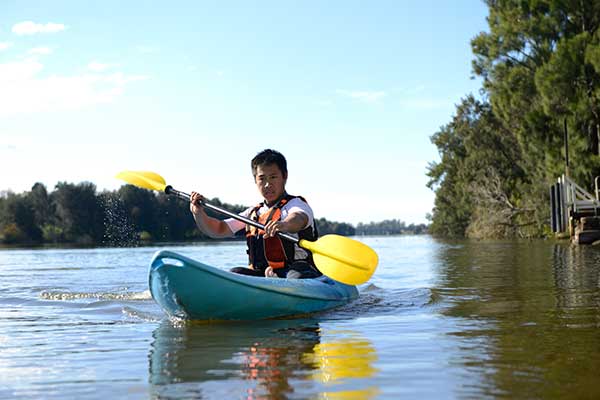 Hop in a kayak, it's a great way to enjoy the great outdoors in Penrith.
Exploring the great outdoors in Penrith with your family or friends has never been easier. There's heaps of parks and bushwalks to discover together (you can read about them here) but if you're wanting a deeper connection to nature and a truly unforgettable experience then consider kayaking on the Nepean River.
Ok we know what you're thinking. Kayaking is way too hard to do and even harder to organise, especially with kids in tow. But it's not really because if you don't own a kayak Horizon Line provide you with everything you need to get on the water and they're located just a short walk from the Nepean River.
At Horizon Line, you can hire a kayak from as little as $15 per hour, $40 for half-day and $60 for a full-day for a single. If you'd prefer to double up with a friend or family member (a great option for parents and kids) the double kayak will cost $25 per hour, $55 for half day and $75 for a full day.
Horizon Line also hire out stand up paddle-boards. Once you've chosen your watercraft, go on a leisurely paddle up to the Nepean Gorge where the natural beauty and the serenity of the River and surrounding bushland will amaze and re-energise you.
And if it's local knowledge and experience you're after, Horizon Line also offers guided kayak or stand-up paddleboard tours of the river. Bookings required.