A local's guide to Penrith with Olympian Jess Fox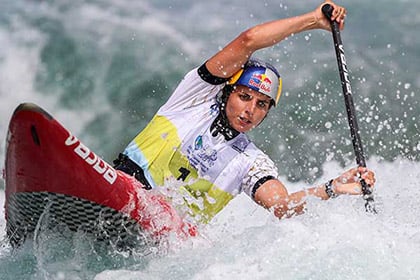 Penrith local and seven time world champion slalom canoeist Jess Fox, gives us her guide to Penrith.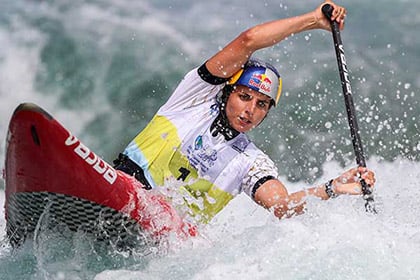 If you haven't heard of Jess Fox, you may or may not have been living under a rock. The power-house canoe slalom athlete is an Olympic silver and bronze medallist, seven time world champion, French speaking dog lover and proud Penrith local. We spoke to Jess about her favourite things to do in Penrith and her next big challenge.
Tell us a bit about where you grew up and where you call home now?
I was born in France but have lived in Leonay since I was five and still live here. I went to Blaxland High School and I train at Penrith Whitewater and Atmosphere Health and Fitness.
What do you love most about Penrith?
I love that the Nepean River and Blue Mountains bush is so close, it's a great place to get outdoors and get active.
The most important question of all, where is your favourite place to get a coffee and what's your order?
Tough question! I love Underground Coffee Roasters for a takeaway from Henri the Van on my way home after training, it's easy, convenient & delicious. And my other favourite for a coffee (& most likely a sneaky muffin or chocolate!) is Zokoko, Emu Plains. My order is a Soy cap.
What's your favourite place to eat in Penrith and why?
I love Thai food, and Red Spoon Thai at Southlands Shopping Centre, South Penrith makes my favourite Chilli Basil Hokkein Noodle.
For a cafe, I don't think I have a favourite as I change it up a lot - but I just tried Emu Hall and their XS stack was a winner!
What does a night out in Penrith look like for you?
Due to training, nights out are definitely rare 😂 It would be pretty chill like a picnic at a lookout over the river or towards the Blue Mountains, or a Friday Sips & Sounds (runs during summer months) at Café at Lewers with some friends.
Where do you go for an adrenaline rush in Penrith?
Penrith Whitewater, where I train daily is always a favourite for me.
I can't seem to stay away from water - I've also tried wakeboarding at the Cables Wake Park which was super fun, but I was so sore for the next few days!
When can we next see you compete?
At the Olympics in Tokyo in 2021!
Best of luck Jess, all of Penrith will be cheering you on!