Meet your mates in Penrith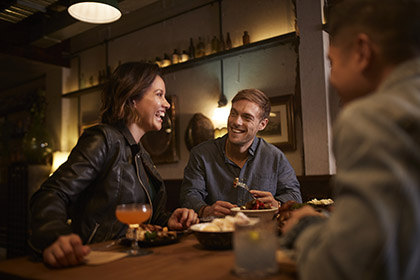 One Day Itinerary
We've put together an epic itinerary that will have your hearts racing and your belly's full this summer.
The silly season is here! Not only does that mean indulging in lots of glorious food and drinks, but it's also a time for reconnecting with friends and family... especially after the year we've had. To help you make the most of your time with your loved ones, we've put together an epic itinerary that will have your hearts racing and your belly's full this summer.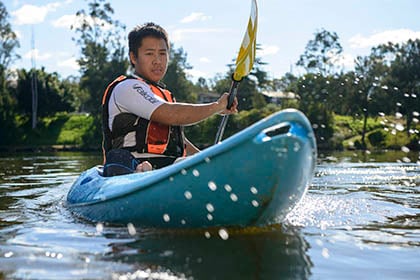 Morning kayak on the Nepean River
Make the most of your morning in Penrith and take some time to explore the Nepean River by kayak! Horizon Line provides canoe, kayak and stand-up paddleboard hire in Penrith. Guided river tours are also available. Bookings essential.
Smoothie break
It's time for a morning pick me up! Head to Assemble Nutrition, one of Penrith's newest juice and smoothie bars for a delicious treat. Assemble Nutrition have created a menu with the perfect balance of nutrition and great taste that will give you a natural energy boost for the rest of the day!
Get your adrenaline pumping at Luddenham Raceway
Go fast... or go home! Get your adrenaline pumping and bring out your competitive side at Luddenham Raceway. This outdoor go-karting centre has a Rookie Circuit for the little ones and a Pro Circuit for the speed demons! The fun doesn't have to stop at racing either, Luddenham Raceway Paintball is on-site too. Bookings essential.
Refuel with a burger on High Street
After all that racing, it's time to refuel with some lunch. There is so much to choose from, so we've picked a few of our burger favourites on High Street. If you love an American style burger, we recommend checking out Downtown Brooklyn or Beefys Burgers. Both of these burger joints pump out classic American burgers with a range of sides, shakes, sodas and cocktails that everyone will love. If you're looking for a little more variety on the menu, we suggest High Street Social. They have a fantastic range of burgers, plus their menu also includes share plates, pizza's, pasta's and more!
Release your inner lumberjack
Now that you're pumped and ready to go, it's time to unleash your inner lumberjack. That's right, we're going to Throw Axe! Some say it's like "darts on steroids". It's quick to learn and so much fun! Hurling your first axe down the fenced-in range and hearing it thud as it sticks to the wood is an extremely satisfying experience – enjoy! Bookings essential.
Enjoy a drink at O'Donoghues Irish Pub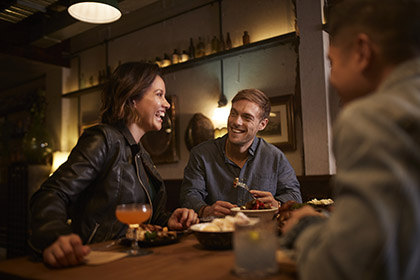 Finish of the day with some icy cold drinks at O'Donoghues Irish Pub. Open 7 days a week, O'Donoghue's serves up the best pub classics, delicious cocktails and great brew!
Got friends or family staying from out of town?
Penrith has a variety of accommodation options to suit all groups and budgets, check them out here.
---
Visit Penrith strongly encourages you to read the guidelines around social distancing in public places before planning your visit. Some destinations may impose restrictions around how they operate, for details please contact the provider. For the latest information about restrictions and health advice specific to NSW, please refer to https://www.nsw.gov.au/covid-19