As seen on Sydney Weekender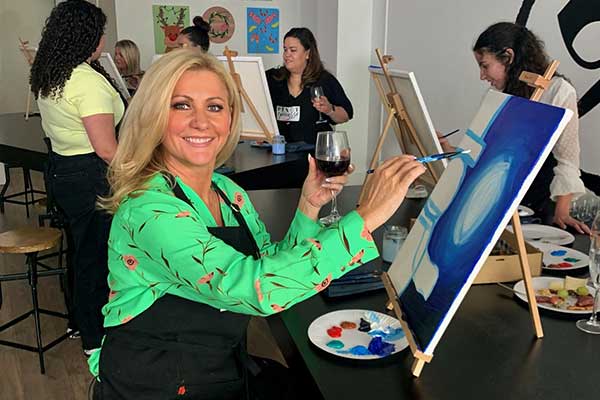 Sydney Weekender invites you to discover a perfect Penrith day on this weekend's episode.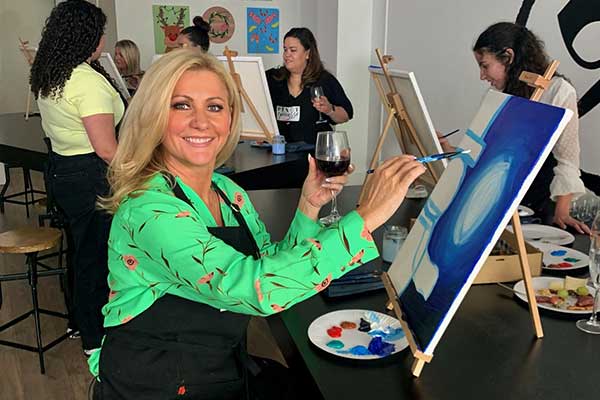 Penrith offers a diverse range of exciting experiences; conveniently located in Sydney's backyard; a great place to visit for a day, have a staycation, meet with friends, bring visiting friends and relatives; and a great place to do something different without going too far away from home. 
Join Sydney Weekender presenters and paint a masterpiece with Pinot and Picasso, a well-loved experience with locals that allows friends to relax and let the creative juices (grape juice, anyone?) flow while learning painting skills as you go. Next stop, authentic and fun Mexican flavours and food at Checho's, a tasty venue nestled in Penrith's CBD with indoor and outdoor dining and a stunning bar with a cocktail menu to match.
Turning to adrenalin pumping activities, Sydney Weekender visits iFly Indoor Skydiving where flyers have no parachute, don't jump and have nothing attaching them to planet earth! For those who don't mind getting wet, Cables Wake Park is the place for fun with cable skiing, wakeboarding and knee-boarding. Also featured, Tru Ninja brings fitness, fun and adventure together and Throw Axe is where you can unleash your inner lumberjack.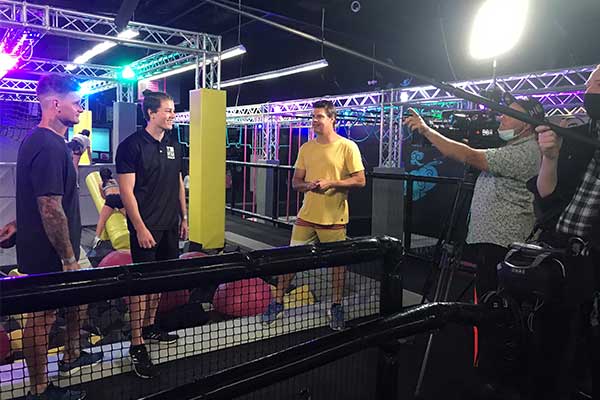 The episode finishes off the day at Emu Hall, located on the bank of the Nepean River with stunning water views but the real star is the food. Delicious all-day eats and insta-worthy drinks and cocktails. And for somewhere convenient and central to stay, Quest Penrith offers a variety of modern apartment style rooms with kitchenettes and is pet friendly (on request).
Catch Sydney Weekender on Sunday, 7 November at 5.30pm on Channel 7 and Prime TV. The episode will be repeated on 7TWO, and available to catch up on 7plus. See the segments below.
Sydney Weekender know that Penrith is a great place to visit as this isn't the first time they have featured Penrith on their show. Catch past episodes here.
For even more things to do, events and places to stay in Penrith, go to Visitpenrith.com.au.
Video Transcript
Many of us haven't picked up a paintbrush since childhood. If you're keen to
unleash your 'inner picasso', Penrith's Pinot and Picasso is where you can do
just that. Pinot and Picasso is a cool, creative space where they provide a
qualified art teacher, and all the materials and guidance to help you create
your own bespoke masterpiece. All you need to do is bring yourself, and a
crew, as well as your own drinks and snacks, and you can sip and paint your
way through a fun workshop. Whether you're a single, a hens, work or other
group, this is the ultimate creative bonding session. And with some great
Christmas themed paintings to recreate, it's also a fantastic Christmas gift for
yourself, or a loved one!
There is even more to celebrate, in Penrith, with the opening of Chechos, the
suburb's first contemporary Mexican restaurant. Swathed in neon and pink,
Chechos exudes the colours and the vibe of this great nation. While you can
still order a classic soft taco- featuring beef brisket, pulled pork, or fish- this
exciting menu includes other fan favorite dishes such as Patatas Bravas- a
mound of fried potatoes topped with a moreish creamy, chipotle sauce-
Charcoal Corn Ribs, Kingfish Ceviche and a beautifully colourful Mango and
Orange Salad. The cocktails are also next level, with one of the best classic
margies around, and over twenty high quality tequilas to choose from!
Video Transcript
If lockdown has had you climbing the walls then we know just where to head. Tru Ninja in Penrith is an indoor obstacle course packed with all sorts challenges for all ages. It'll test your strength, your agility, build your confidence and is heaps and heaps of fun to do.
Little kids can join a Mini-Ninja session, where they can safely learn how to negotiate obstacles big and small, or just jump into the foam pit. Bigger kids can take part in a Ninja Academy session, led by a trainer, where they can learn all the skills they need to tackle the bigger parts of the course.
And if you're an aspiring TV Ninja, you can go head to head on the full-sized Ninja course, complete with an 11 foot warped wall to finish.
If you'd need to wind down afterwards, why not take in a section of the Great River Walk along the Hawkesbury-Nepean. It's a great spot for families, romance or just walking the dog.
And if you're travelling with your beastie bestie, you can stay at the Quest Apartment Hotel Penrith, a stunning collection of one and two bedroom apartments that are pet friendly for dogs under 20kgs.
Bring the Ninjas, bring the dog and have a great weekend in Penrith.
Video Transcript
On the banks of the Nepean River, in Emu Plains, stands one of the region's most historic homesteads- Emu Hall. Built back in the 1800's, within these beautifully restored walls lies not one, not two, but three exciting reasons to visit.
When it comes to dining, this venue quite literally has it all! For those after breakfast, brunch, coffee, or a crazy shake, XS Espresso is a cafe where excess is found all over this menu. Choose from a range of delicious, stacked pancakes and waffles, as well as a range of savoury breakfasts. And for those with a sweet tooth, don't leave without trying one of their insta-worthy crazy XS Fave shakes- including the you won't be disappointed!
For those seeking a more formal dining experience, Emu Dining offers both indoor dining, and outdoor dining options, overlooking the river. The menu here is laden with seafood and meat dishes, from seafood platters to steak. There's also a fantastic wine list, to compliment each dish.
And to top off this brilliant dining concept, there's even a bar, with cocktails created by dedicated mixologists, including the 'Who Knew the Emu' in a custom-made emu glass, and a range of exciting bar snacks from calamari to sweet potato chips!
Video Transcript
If you love action and adventure, you'll find plenty of it in Penrith. Sydney Weekender sent our resident iron-woman, Candice Warner, to iFLY– Sydney's Indoor Skydiving centre. This is the closest thing to actual skydiving, with participants experiencing zero gravity in an indoor tunnel that replicates the sky-diving experience. Following an orientation and instruction, with an experienced instructor, participants then gear up, before entering the high-powered tunnel for the experience of a lifetime. Once you get a handle on the basics, your instructor might take you on a thrilling tandem ride, to the very top of the tunnel! Age and disability is no barrier to flyers, as kids as young as three, and people as old as one hundred, have taken the plunge at iFLY.
In Penrith, you'll find action in the air, and on the water! Candice heads to Cables Wake Park– the only wakeboarding park in the whole country that has two FULL sized cables systems, operating in opposite directions. Candice teams up with the 'Queen of Wakeboarding' and co-owner of Cables Wake Park, Courtney Angus, for a private wakeboarding lesson. There is plenty of grassy space, to watch all the action on the water, as well as a cafe for all your food and beverage needs. For those who are keen to fully immerse themselves in the sport of wakeboarding, you can even stay onsite at the Cables Lodge, and enjoy wakeboarding camps, and then kick back post-wakeboarding, in the communal lounge and games area.