Penrith Museum of Printing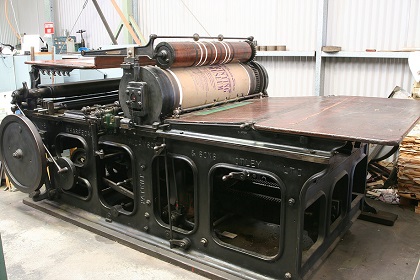 Are you fascinated by fonts, into tinkering with type setting or want to learn more about printing presses?
The Penrith Museum of Printing, which turned 21 this month, is much more than a collection of historical relics of the printing trade – it's a working print shop. Run by a group of tireless volunteers it invites you to step back into a 1950s-style print shop and get a glimpse of the past through working demonstrations.
Penrith is proud to be home to this interactive museum and our thanks must go to its founder, the late Alan Connell. Alan, who entered the printing trade as an apprentice in 1939 and stayed loyal to the trade until retirement, worked for many years to gather the items that make up today's collection.
While much of the machinery and equipment at the museum came from the former Nepean Times Newspaper print room, other key items have been donated from printing companies from around the state. The pieces date from the 1840s to the 1970s – including the 1880s Wharfedale printing press, 1860s Albion Press and, the prize of the collection, a 1941 Colombian.
The Columbian was donated to the museum by Fairfax Media. The press was manufactured in England and delivered by ship to Sydney, before being transported over the Blue Mountains to Carcoar in 1872 where it printed the Carcoar Chronicle until the publication's demise in 1939.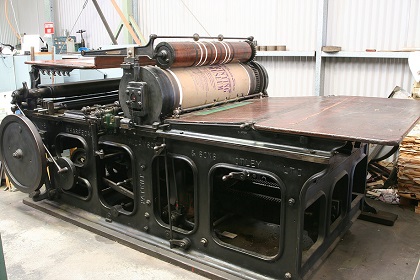 The press was left to rust until it was bought by John Fairfax and Sons in 1973. The machine was then restored to perfect working order and was on display at Fairfax headquarters until it was moved to Penrith. See this magnificent piece of printing history in action when you take a tour of the museum.
And, if you're struck by a sense of déjà vu when you step inside, perhaps you recognise the workshop from a scene in Bruce Beresford's 2018 film Ladies in Black. The quaint film, set in 1959 Sydney, includes a print room scene shot at the museum with some of its volunteers standing in as extras.
The Penrith Museum of Printing is open Sundays from 10am to 2pm or by appointment for groups during the week. You'll find the museum in the Penrith Showgrounds in Ransley Street, Penrith.