Your top 10 activities not to miss at Real Festival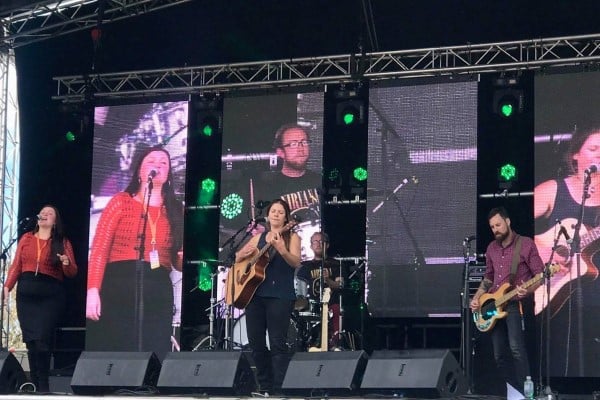 Here's our list of just SOME of the BEST activities not to be missed at Real Festival 2023.
Here is our top tips guide on just some of the best performances and activities set to turn heads at Tench Reserve on Fri 15, Sat 16 and Sun 17 September.
Catch them all if you can or pick a few in any order – we love them all 💖 And be sure to pre-book for workshops so you don't miss out!
1. Feral Hogs – reserve tickets
The genius Penrith Performing Visual Arts team bring Feral Hogs to life on stage. The performance promises to be a part-story, part-game experience! Reserve your front row seat here.
Fri & Sat – 5pm, 6:15pm & 7pm
2. Weaving with Nula
Take a moment to connect with community and culture in this hands-on experience, weaving creations with Ngiyampaa and Guringai artist Tarni Eastwood. Suitable for all ages.
No need to book – just rock up!
Open each day, all day
3. Illuminart
Don't miss the iconic Nepean Belle on the Nepean River as it shines and stuns in this illuminated art show by the No Boundaries Art Group.
Main stage Fri & Sat – 6:30pm & 8pm
4. Jetpack Show
One of Penrith's top adrenaline pumping experience soars above the Nepean River banks, and you get a front row seat on the action!
Main stage Fri & Sat – 6:50pm & 8:20pm
5. Roller Rink by Busways – book today!
Kids and adults alike will enjoy this FREE 30-minute session as you roll and weave your way around the Roller Rink and show off your best moves! Suitable for ages 4 and up. Pre-book your spot here to avoid disappointment (and potential queues!)
Open each day, with session times available all day
6. Junkyard Beats Show & Workshop
Experience a crazy high-energy performance of drumming, dancing, comedy & creative recycling, making you think twice about your average household items! Join the workshop and create your own unique instrument using recycled materials. Junkyard Beats performance and workshops are proudly sponsored by Council's Waste and Resource team.
Workshop: No need to book – just rock up! | Main performance Sat only - 6pm
7. Chilli Kids Yoga – book today
Kids can take their time and chill-lax with this easy-going yoga and mindfulness session, teaching kids practical movement activities and breathing exercises. Spaces are limited so book your FREE spot here. There are 3 different age sessions available: ages 5 – 7, ages 8 – 11 and all ages.
Sunday only – various session times
8. Bonniedoon
Hailing from the Blue Mountains, this powerhouse indie and rock band are prepared to blow Penrith away! Get a bite to eat at one of the many food trucks and a drink in hand and rock the night away 🤘🏼
Main stage Sat only – 8:45pm
9. Art installations
Was that an enormous snail? Did you just see a cheeky crab? You will indeed with colourful and enchanting art displays featured all around the Real Festival grounds. Grab a selfie and be sure to tag us! #realfestival
Open throughout the weekend
10. Dauntless Movement Crew
With over 1,000 performances under their belt, the Dauntless Movement Crew are here to blow us away with their award-winning creative dance, jaw-dropping stunts, and unique fire tricks.
Main stage Sat only - 5pm
---
Check out the Real Festival website for ALL the info on activities and how to plan for this stellar weekend!
Follow Real Festival socials for updates in real time!
https://www.facebook.com/realfestivalpenrith | https://www.instagram.com/realfestival/