Everything you need to know about Pinot & Picasso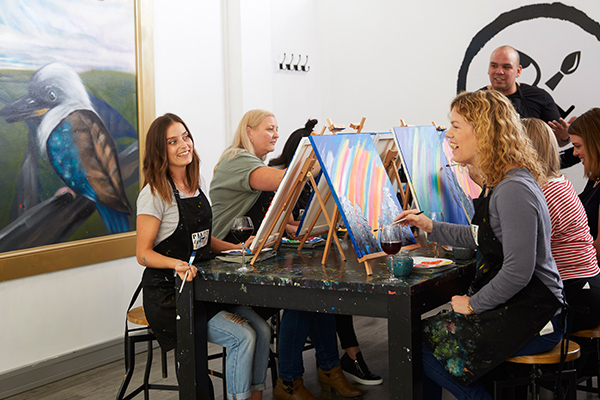 Penrith's ultimate paint and sip experience.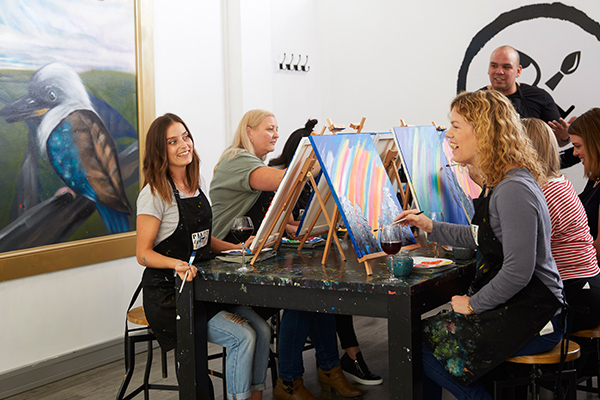 The concept of paint and sip has really taken off over the past few years and Penrith is leading this wave of enthusiasm with the very first Pinot and Picasso opening last year. They've enjoyed so much success in this short time that the business has been franchised with new openings in Byron Bay, Wollongong, Camden, Newcastle, Rouse Hill and the Gold Coast.
The secret to Pinot and Picasso's success is in the detail or should we say, lack of detail. Because there's no perfect technique, steady hands or artistic talent required to participate in their art classes. With a glass of wine in one hand and a paint brush in the other, you're encouraged to just have a go at painting – and have fun while you're at it!
In between sips of wine, you'll be painting anything from colourful or moody scenes, a portrait of an animal in their native habitat or even your favourite flower. You'll be instructed and encouraged every step of the way by your teacher and when you're finished, you'll get to take home your masterpiece to hang on your wall.
The cost for each session is $59 and for this you get your work station which includes your instructor, seating, easel, paint brushes, paint, canvas and most importantly glassware for your favourite drop. It's important to note that to partake in the sip portion of the experience you will need to bring your own wine, as the venue is not licensed to sell or provide alcohol.
Finally – with bottles and brushes sorted, there's only one thing left to organise and that's the brie. A cheese platter will fuel your creative fire and is the perfect accompaniment to this experience. You can bring your own nibbles, or purchase a handcrafted Grazing Board (prices start at $45 for two people) when you make your booking.
So what are you waiting for? Explore upcoming sessions and get painting.