Five things you didn't know about Penrith's Regional Gallery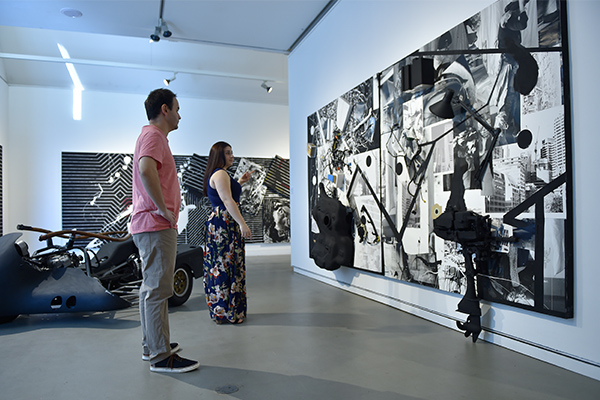 Seasonal exhibits, a heritage garden, colourful history and more!
Penrith Regional Gallery is situated on the banks of the beautiful Nepean River and offers visitors the opportunity to experience an ever-changing program of exhibitions, while enjoying the spectacular views of the River, native wildlife, plants and flowers along the riverbank. You'd be hard-pressed finding a more picturesque location for a gallery, but step inside and there's even more to discover about Penrith Regional Gallery.
1. A gift to Penrith
From 1940 - 1978, the Gallery was the home and studio of celebrated Modernist artists Margo and Gerald Lewers. Gerald was a sculptor while Margo worked across textiles, painting and sculpture. Margo was passionate about interior decorating and brought her unique perspectives on art, colour, ideas and beauty to transform their property into a total work of art. After their deaths, the home was gifted to the people of Penrith as an art gallery and it remains a place of creativity and community, offering an ever-changing program of exhibitions for everyone to enjoy for free.
2. A colourful history
Margo Lewers adored colour. Not only was colour the hero of her artworks, she integrated colour into every aspect of her life. In her garden, the trees, plants and flowers were planted by colour, she painted sections of her home in different colours while cushions and bedspreads were dyed in a variety of primary tints. Margo was also renowned for hosting fabulous colour-themed parties which would run well into the night and early mornings. These parties were attended by Sydney's most colourful characters including boisterous and opinionated artists, writers, philosophers and critics.
3. Not one, but three galleries
Art, nature, architecture and history blend together to create three distinct gallery spaces on the site. The original home of Margo and Gerald Lewers is one gallery; there is a gallery in the adjacent house built by modernist architecture icon, Sydney Ancher and a purpose built main gallery which is where you'll find the major exhibits. Not included on this list, but definitely worth mentioning, is the heritage garden which is a living work of art and must-see item when you visit.
4. It's never the same
Come once, then come again (and again) because you're guaranteed to see something different each time. In a nod to Margo's love of colour, the exhibitions change with the seasons and there's public programs offering events for fun and learning; as well as children's art workshops, all abilities art workshops, and education programs for students and teachers.
5. It has an amazing cafe
Cafe at Lewers is where art and food comes together, providing visitors with a creative and memorable culinary experience. The cafe's menu changes with each season and incorporates delicious and fresh produce from the garden. It's open for breakfast, lunch, morning and afternoon tea as well as for canapés and drinks at the much-loved Sips & Sounds summer events. Enjoying a meal or drink before or after a stroll through the exhibition spaces is an absolute must – because you know that Margo and Gerald would want you to.