Three ways to get in the Nepean River
Explore and enjoy the beautiful Nepean River from a different perspective.

As the weather warms up we understand the urge is strong to get in the water so we've come up with some ideas to help you get wet, have fun and cool down over the summer months.
Kayaking
The Nepean River's long stretch of calm water makes it the perfect spot for kayaking. There's almost 40km of connected waterways to get through once you're on the water (depending on how far you want to go and how confident you are) with the 5km section between Penrith and Nepean Gorge the most popular for newbies.
If you don't own a kayak, nearby Horizon Line can provide you with everything you need to get on the water and they're located just a short walk from the Nepean River. Hire a kayak from as little as $15 per hour, $40 for half-day and $60 for a full-day for a single and you can double up with a friend or family member for $25 per hour, $55 for half day and $75 for a full day.
Boating
If you're lucky enough to own a boat then you'll be happy to know that the new boat ramp at Tench Reserve is now complete and this means there's a brand spanking new three-lane boat ramp for you to use. There's also 34 new boat trailer parking bays and 10 vehicle parking bays so it's also easier than ever before to get your boat on the river for fishing, wakeboarding and jet skiing throughout summer.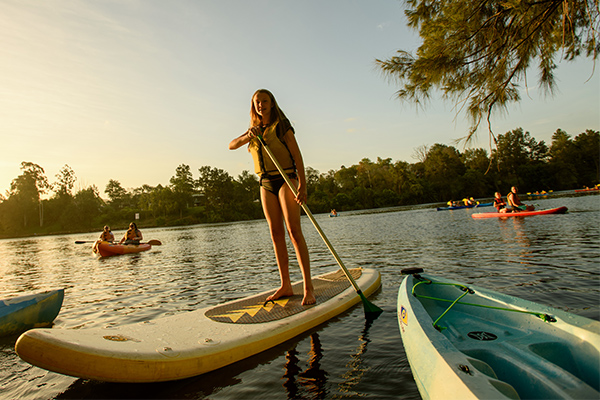 Don't own a boat? You don't miss out! The fantastic upgrade to Tench Reserve also includes new jetties along the foreshore, and new footpaths and stairs so you can walk around safely and easily down to the river's edge to take in the views, and find somewhere to sit down comfortably, have a picnic and enjoy all the on-water action.
Stand up Paddleboard
If you're keen to try stand up paddle boarding (SUP) for the first time or you want to up your SUP game then head to the Nepean River. The long, calm stretch of water is loved by water-sport enthusiasts seeking out spectacular views of the rugged sandstone cliffs of the Blue Mountains, surrounding bushland and abundance of native wildlife.
Bring your own or if you don't have one you can always hire a board from nearby Horizon Line with one-hour, two-hour, half-day and full-day options to choose from. With prices starting at just $20 it would be rude not to give it a go. Their friendly staff are also available to book for tours and private lessons.