Top 5 picnic spots in Penrith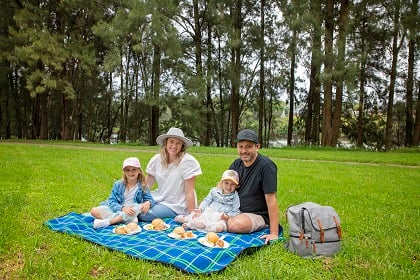 Enjoy being outside in the sunshine at one of the many great picnic locations in Penrith.
There are so many picturesque locations in Penrith and there is no better time than now to break out the chequered blanket.
You can find heaps of handy info, including about accessible parking and amenities, for spots one, two and three on this interactive map.
1. Weir Reserve, Nepean River
Bruce Neal Dr, Penrith
Weir Reserve is named after the nearby Penrith Weir, which was constructed in 1908 to regulate the water flow in the Nepean River. Over time, the Weir has become a popular bathing spot for birds and other wildlife and a picturesque location to admire from the Reserve.
The large open spaces at Weir Reserve are perfect for big gatherings and for smaller groups there are several undercover picnic tables located throughout the park. Large trees provide welcome shade for those with picnic rugs, and newly refurbished public toilets are located nearby.
2. Tench Reserve, Nepean River
Tench Avenue, Jamisontown
Tench Reserve on the Nepean River is a hub of activity and everything you need to have a great picnic experience is right here. There is a great view of the Nepean River, lots of open space and two playgrounds, public toilets and free BBQ facilities.
There's plenty of space for a game of cricket or football, and for throwing a Frisbee. If you prefer a slower pace, you can also set yourself up at a picnic table or on the hill and sit back and watch all the action on the river which can include kayaking, boating, fishing and jet skiing.
3. Regatta Park, Nepean River
River Rd, Emu Plains
Regatta Park is located adjacent to the Nepean River in Emu Plains. The Park boasts picnic tables, a large open space, perfect for games and running around as well as lots of trees which provide welcome shade in the summer months.
If you forget to pack something for your picnic, the park is only 400 metres from Emu Plains shops. There's also public toilets and a playground to keep the kids occupied and entertained for hours!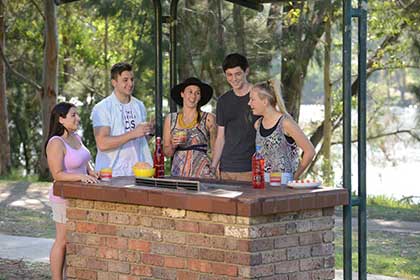 Download a map of the Great River Walk, an eight kilometre walking track along the picturesque Nepean River, which details where these picnic spots can be found. This map also has lots of other useful information such as parking, lookouts and sites of interest.
4. Werrington Lakes Reserve
Burton St, Werrington
Werrington Lakes is a sprawling reserve that is home to a lake, cycle tracks, walking paths, and outdoor gym equipment. Combined with BBQ facilities and public toilets, this is the perfect spot for your next picnic.
There is also a great covered playground which includes a fort, swings, things to climb up on, a fireman's pole and other obstacles to test out your kids balance and coordination. In the summer months the kids will enjoy cooling off in the playground's splash pad water feature.
5. Sydney International Regatta Centre
Old Castlereagh Rd, Castlereagh
With over 178 hectares of bush and parklands, there's plenty of space to relax and catch up with family and friends for a picnic at the Sydney International Regatta Centre.
After a bike ride or scenic walk around the main lake, choose your spot on the grass or enjoy free use of one of two undercover BBQ areas that comfortably seat 40 people. Large groups can book a grassed area or exclusive use of the BBQ area (fees apply).
With plenty of parking, a kiosk and restaurant nearby and public toilets available, this really is a gold-medal winning picnic spot.