Best breakfast spots in Penrith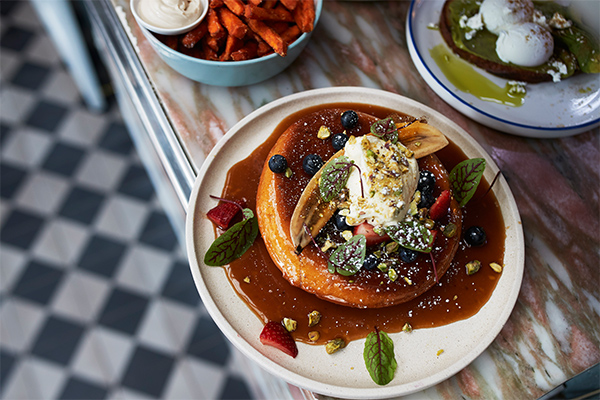 We've profiled some of the best places to enjoy brekkie. You're welcome.
Henri Marc
A visit to Henri Marc is a breakfast you won't forget in a hurry. Don't let their address fool you, although they are listed as being on High St they are actually tucked away around the corner (opposite the tranquil Memory Park). A recent renovation has given them twice the space for hungry diners to indulge and enjoy their delicious food. For something different try the Beetroot, Whipped Ricotta, Spiced Indian Pickle, Dukkah and Sourdough ($17). If it's a sweet treat you're after, order the Waffles ($16.50) which come with honeycomb, coconut gel, blueberries, lemon and ice cream. The coffee is also worth mentioning as they serve up Seven Seeds and Rueben Hills which are both excellent choices for coffee lovers.
Cafe at Lewers
What could be more picturesque than a cafe situated in the heritage gardens of an art gallery? Even better Cafe at Lewers uses vegetables and herbs grown in their garden so you can be assured everything is fresh, and delicious. Savoury options include the Bangers and Chats ($19) with pork and fennel sausage, chat potatoes, sautéed mushrooms, porcini, parmesan, pangrattato and salsa verde. For something sweet you can have the Rhubarb and Pear Crepes ($20) with roasted pear, ginger and rhubarb puree, whipped mascarpone, macadamia and oat crumble, citrus meringue and golden syrup. The menu changes with each season so be sure to check what's on offer throughout winter.
Manic Organic
We've said it before (here) Manic Organic Cafe is simply the best when it comes to shared food experiences. Their platters are amazing and because there's enough food on them for two meals (and then some!) there's no doubting that you'll have plenty of energy to burn throughout the day. The two-tiered Manic Brekky ($56) comes in a variety of options including vegetarian ($52) or vegan ($62) and perfectly separates the sweet from the savoury. The three-tiered Aussie Platter ($60) has everything you could ever need in a breakfast; pancake stacks, bacon and egg rolls, sausages, hash browns, baked beans, bacon, scrambled AND fried eggs, wedges and mushrooms. Mind blown.
Percy Plunkett
Having recently celebrated their first birthday, Percy Plunkett are still relative newbies on the breakfast scene but they have certainly made their mark over the past 12 months and it's easy to see why. Serving up goodies such as the Deep Dish Pancake ($21) with butterscotch sauce, white chocolate mousse, caramelised banana, berries and pistachio; The Green Breakfast Bowl ($15) which comes with wilted kale, asparagus, spinach, quinoa, avocado puree, sesame seeds and minted lemon labna; and a selection of delicate and delicious pastries from Son of A Baker. Sit inside or sit outside and enjoy the glorious sunshine and gardens – you won't be disappointed either way.
Theodores Cafe
Theodore's Cafe on High Street is one of the most popular spots for breakfast in Penrith, and hands-down a local favourite. It's no wonder really with no nonsense, good food at really great prices. The Big Breakfast ($18) lives up to its name with eggs on thick cut white toast served with smoky bacon, Italian sausage, grilled tomato, hash brown and sautéed mushrooms with garlic and thyme. There's the Avocado Smash ($16) which comes with feta, baby spinach leaves, poached eggs and a fresh chermoula dressing. The Blueberry Pancakes ($16) are a must-try served with lemon mascarpone and Canadian maple syrup. Yum.
We should also point out that there are many great places to have breakfast in Penrith and also worth mentioning is Coffee Club at Nepean River, High St Depot, and Cafe Lattetude on York. Have a look at all the great breakfast spots in Penrith right here.