Penrith's craft beer trail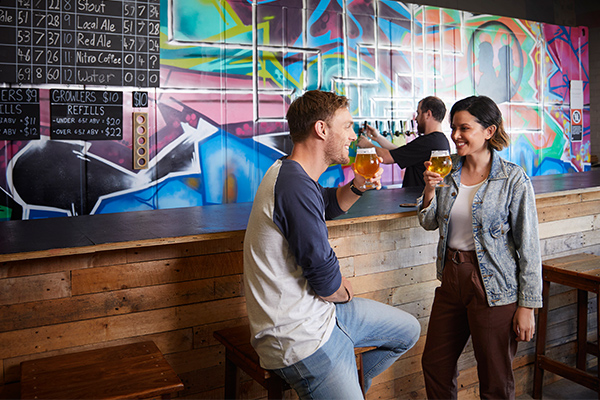 Amber liquid lovers rejoice, Penrith is craft beer central!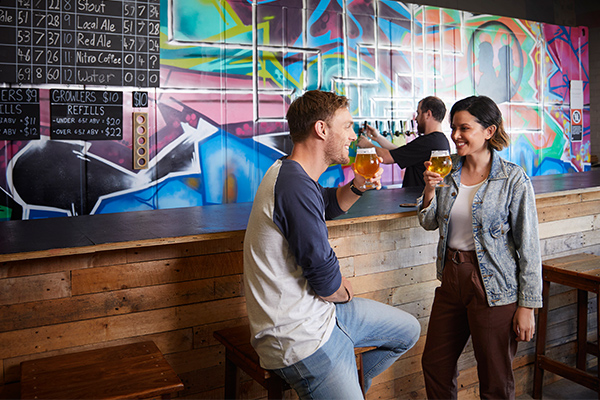 Penrith has not one, not two, not even three, but FIVE craft beer breweries (count them people!) where you can enjoy a range of flavours and styles of ale, lager and stout.
First up there's Casey's Nepean Brewery who have been brewing up a storm in Jamisontown since 2015. Casey's brew a core range of beers, plus specials and seasonals. Their bar runs 11 beer taps (plus a tap for Hillbilly Cider from Bilpin) and a BBQ on Saturdays and Sundays. And, if you want to take-away, Casey's sell bottled beer in singles, six-packs and cartons and fill cornie kegs, mini-kegs and growlers while you wait.
Rusty Penny Brewing joined the ranks in 2018 and in 2022 moved into a shiny new premises in Coreen Avenue. The Rusty Penny crew brew a wide range of pilsners, pale ale, IPAs (that's hoppy, India Pale Ales) and stout. The large, open-plan premises offers plenty of seating, a selection of delicious craft brews from the bar and an array of hearty smoked meats and other tasty treats from the kitchen.
With local owners living the dream, Squinters Brewing Co opened its doors in Peachtree Road in August 2022. They offer 10 of their own beers on tap from lagers through to fruitier ales and classic stouts and Beefy Burgers food truck serving up delicious burgers.
Mountains Culture Beer Co. Established in Katoomba in 2017, the brewery opened a premises in Emu Plains in late 2022 – called The Factory, because it's where most of the magic now happens. The good news is this factory is open for all! With 20 taps and takeaway beers, it's the place to go for new (weekly) releases and favourite core range beers as well as wine, sophisticated soft drinks, gluten-free beer and cider, both the punchy and softer sorts. A rotating selection of food trucks helps keep the hunger away.
The newest kid on the Penrith brewing block is Drink West Brewery. The love child of Tyson Pedro and Tai Tuivasa with Nathan Cleary in there somewhere too, Drink West Lager is known as "the beer from out here". The impressive premises is situated at the Manufactor Site (boasting some awesome food options).
So, here's cheers to Penrith's craft beer brewery trail!