Five of the best places to drink craft beer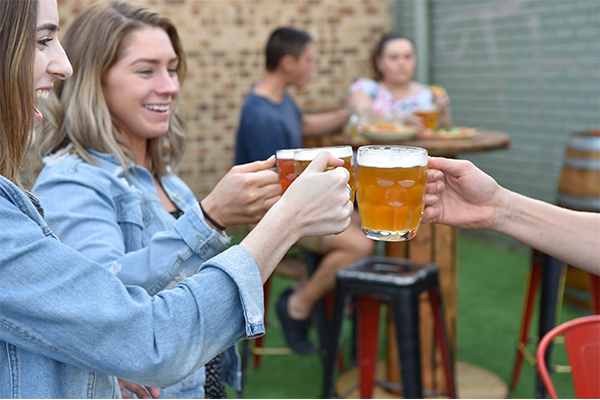 When it comes to beer, the big brands are not always better. See for yourself.
High St Social
It's well-known that High St Social has one of the best beer lists in Western Sydney. Their beer list is well-curated with a huge variety of brands, styles and flavours to choose from. The taps feature almost all independent Australian breweries. You'll see the likes of Two Birds, Wayward Brewing and Hawkers Beer on tap and our personal favourite the Makes Me Cream seasonal beer from Fox Hat Brewing. This beer has fresh Adelaide Hills strawberries added throughout the brewing process to make it delightfully creamy, pink, and a ton of fun. Happy Hour runs from 4 – 6pm every day, with select pints offered for just $7.
Mr Watkin's
If you've been to Mr Watkin's you'll know that it's been designed to replicate the library of 18th Century explorer, Captain Watkin Tench. Featuring exposed brick walls decorated with 'antiquey' objects including a bit of taxidermy, old bottles and shelves of books, it's the perfect setting to indulge in the age-old tradition of beer drinking. Showcasing many Aussie brewing greats like Hope Estate and 4 Pines, they also serve the fastest growing craft beer brand in the country; Single Fin. The Single Fin Summer Ale has a big tropical fruit bowl aroma, which is balanced by subtle bitterness, and a clean finish. Why not stop by and try it for yourself? No doubt Captain Watkin Tench would approve.
Rusty Penny
The newest brewery to open up in Penrith is quickly becoming the most popular. Rusty Penny was opened late last year by two mates, Matt and Mark, who have always had a passion for beer and brewing. After years of home brewing, they decided to open their very own brewery and share their skills with the good people of Penrith and beyond. Thanks guys! The small-scale production allows them to experiment with flavours and create really unique brews. They can have up to 12 different beers available to taste including the Australian Pale Ale, Stout, American Pale Ale, Pils and Session Ale. With seats for up to 30 people, Rusty Penny is suitable for both individual and group tastings and is open Thursday through to Sunday.
Casey's Brewery
Sometimes too much choice can be overwhelming, which is why Casey's Brewery in Jamisontown has a core range of just three beers. The small brewery (and homebrew store) sells Lounge; a pilsner-inspired pale golden ale, Night; a malty black ale and Tifter; a "3C" bitter amber ale named for the three hops it contains: Centennial, Chinook and Cascade. The brewery is open for tastings and sales Thursday and Friday 6pm to 8pm, Saturday 2pm to 6pm, and Sunday 11am to 4pm but the majority of Pat's beer is delivered straight to the customer via their unique home delivery service. Cheers to that!
O'Donoghues
O'Donoghues Irish Pub in Emu Plains boasts one of the best ranges of craft beer in the area. Young Henry's Newtowner is one of their best and most popular, but there is another that has everyone talking. Penrith's own Mick Fanning is part-owner in the Balter Brewing Co and their Extra Pale Ale 5% has won a string of awards and is on tap at O'Donoghues for everyone to enjoy. Better still, they offer Happy Hour from 3pm - 6pm Monday to Friday where you can get craft beer for just $5 and enjoy FREE hot dogs, chicken wings and wedges. Winning.