Penrith's accessible attractions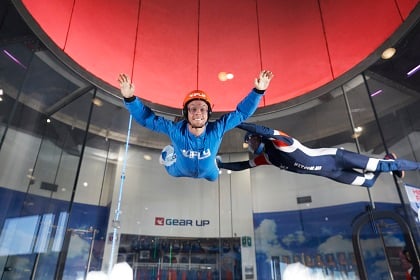 Find out about the accessible activities and attractions in Penrith.
Penrith has many great attractions that cater for all abilities, and we've compiled some of the best of them here for you.If you're unsure whether an attraction is suitable for you and your family, or just want to double check what's on offer we encourage you to reach out to the venues.

iFLY Indoor Skydiving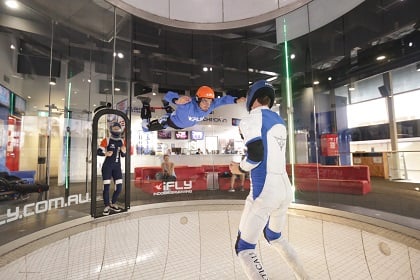 At iFLY Indoor Skydiving you get the rush of free falling from a great height without having to actually be at a great height! Best of all, iFLY is one of the most accessible activities in the world, with a state-of-the-art wind tunnel providing a fully controlled and ultra-safe environment. iFLY offers the following accessible features:
accessible for wheelchair users, those with low vision, hard of hearing, cognitive or neurological differences, amputees, and more
Flyers with disability can fly anytime, or in the dedicated monthly All Abilities events
lift access is available for wheelchair users as well as restrooms and entrances that are designed to be wheelchair and pram accessible
accessible parking is available in the Penrith Panther's car park
service animals are welcome
watch iFLY's International Day of People with Disability event by clicking here
20% OFF the iFLY Basic and iFLY Value package for people with disability. Use the promocode: ICANFLY


The Joan Sutherland Performing Arts Centre
The Joan Sutherland Performing Arts Centre serves up a range of theatrical, dance, music and comedy performances in a range of spaces and for all ages. It offers the following accessible features:
space for wheelchairs with strong sight lines and easy access

a complimentary ticket for an essential support carer or companion accompanying a patron to The Joan with a valid Companion Card

accessible parking nearby at Penrith City Council's Civic Centre car park and Westfield Penrith. Access from these car parks to The Joan is level and wheelchair friendly

two entranceways to the venue. Both have level access to the ground floor foyer, which includes Box Office (with accessible counter), lift, and accessible toilets

access to all levels of the venue via a lift, and
accessible toilets on the ground floor and level 2.
Throughout the year, select events are offered which are
audio described for vision impaired patrons

Auslan Interpreted or Open Captioned for hearing impaired patrons, and
relaxed events for patrons with autism spectrum conditions, learning disability and other sensory communication needs. Where possible, relaxed events are accompanied by a Visual Story or Sensory Guide.
Find out more about The Joan's commitment to accessibility.
Sailability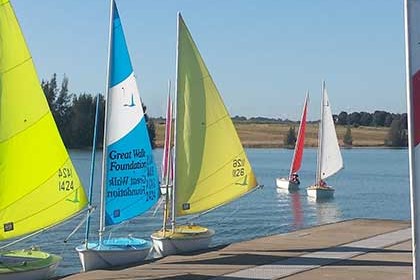 Sailability operates out of the Sydney International Regatta Centre and offer sailing for disability service providers and school groups two to three days a week. Some of their accessible features include:
accessible boats and dinghies

access to accessible parking spots at the Sydney International Regatta Centre

access to accessible restrooms at the Sydney International Regatta Centre, and

access to a wheelchair hoist
Museum Of Fire
The Museum of Fire celebrates the history of firefighting and houses a fascinating collection of equipment and appliances. And who doesn't love a bright red, shiny fire engine? The Museum offers the following accessible features:
single level access to all public areas of the Museum

all computers have touch screens and switch adapted mice with trackballs, and

accessible toilets are located inside the Museum and outside in

our

their

picnic grounds.
Find out more about the Museum's commitment to accessibility.

Zone Bowling
If you enjoy the clatter of knocking down pins, Zone Bowling is for you and your friends and family. In addition to having facilities which are accessible, they offer a number of other features including:
discounted bowling offered to all people with disability, and

companion cards accepted and a free game of bowling to an accompanying carer.
Find out more about Zone Bowling's commitment to accessibility.


Throw Axe
Throw Axe offers you the chance to release your inner lumberjack! It's one of Penrith's newest adventure attractions and offers accessible facilities and experiences for all adrenaline-seeking patrons. At Throw Axe:
all bathrooms are wheelchair accessible, and

all axe-throwing cages are wheelchair accessible

Penrith Regional Gallery
Penrith Regional Gallery – Home of the Lewers Bequest is one of the most beautiful and highly respected regional galleries in the country. With multiple exhibition spaces and a garden café, it's a must to include on your visit to Penrith. The gallery space is wheelchair accessible, offers a number of accessible parking spots on site and has an Inclusive Education Program of tours and workshops for people with disability. These include:
gallery tours (such as heritage tours of the site and the collection, exhibition and garden tours) tailored to the needs and interests of your group

interactive tours using a range of interpretive strategies for visitors with special needs, including sensory tours for visitors with an intellectual disability and audio description for visitors with a vision impairment
art making workshops, delivered by specialist tutors in a range of art-making media, and

specialist mentorship programs for artists living with a disability.




Playgrounds and scenic pathways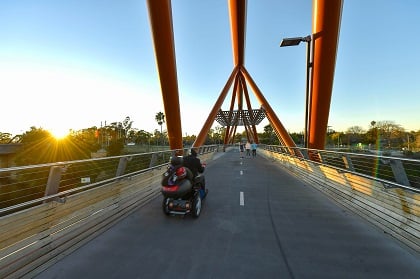 There's some great outdoor playgrounds in Penrith which provide unique environments for children of all ages and all abilities to play side by side.
Livvi's Place in Jordan Springs has several interactive spaces including a large water play area with six water jets, a sandpit, trampolines, swings, a range of play equipment, a performance stage and picnic areas.
Thornton Oval (Lord Sheffield Circuit, Penrith) has a great playground with two distinct play areas catering for different needs; the larger area is designed to help young children with their physical, social, cognitive and imaginative skills and the smaller area has equipment that will help older people with exercise and social interaction.
Or download the Penrith Hike and Bike Trail map and go on the lookout for wildlife on the accessible pathways through Blue Hills Wetlands.
You can also take in gorgeous views from theYandhai Nepean Crossing and explore the western side of the Nepean River along an accessible pathway. You can find accessible parking and amenities information on this interactive map.
Accommodation
With so much to do and see in Penrith, you'll definitely need more than a day! Before you book a place to stay, take a look at this list of accessible accommodation across Penrith, several of which can hire hoists and other aids on request. To find out more, discuss your needs with operators.
Accessible Services Map
This handy accessible services map will help you plan your trip and navigate your way around our City while you're here. It includes information on street access as well as a range of accessible services and facilities in Penrith and St Marys.
Master Locksmith Access Key (MLAK System)
Accessible facilities in Penrith should be open 24 hours a day but sometimes if is necessary to lock them. The MLAK is an innovative key system that users the universal lock right across Australia. It allows people with disability to gain access to public facilities, reduces vandalism, keeps facilities cleaner and at the same time overcomes the obstacle of finding accessible facilities locked.
People with a disability can buy their own universal key from their local master locksmith for around $22. To buy a key you will need written authority from:
a doctor

disability advocacy centre

Council or community centre

a disability organisation, or

centre management or owner of a site that includes an accessible toilet.
To apply for a key, complete the MLAK Purchase Form - word version (pdf 954.7KB) or PDF version (pdf 526.6KB) and take it to a local master locksmith.
Locate your nearest master locksmith using the Finder Tool

For more information on the MLAK system phone Council's Customer Service on 4732 7777.