Local favourites and hidden gems
Uncover Penrith's hidden gems as you explore our most popular local attractions.
This itinerary is packed full of amazing food, mind-blowing history and stunning scenic experiences.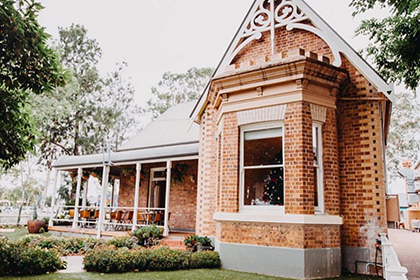 Experience great food in one of Penrith's most loved historic homes
Penrith is home to some truly unique locations of historical significance and this morning you'll get the chance to explore them on our Heritage Drive. But before you start your adventure it's time for coffee. Percy Plunkett is one of the key locations on the Heritage Trail. Named after one of the original owners of the home, Percy Plunkett is arguably one of Penrith's most popular brunch spots. The lovingly restored heritage home combines Penrith's rich history with a love of good food and we mean seriously good food.
Uncover Penrith's past
The Penrith Heritage Drive is approximately 50kms long and takes in some of the oldest buildings, structures and locations in St Marys, Penrith, Castlereagh, Emu Plains and Mulgoa. Featuring 27 sites including the Victoria Bridge and Mamre House, you're sure to be captivated by Penrith's 200 year-long story as you travel through rural and urban areas across the city. All the sites along the trail help to shine a light on the people, places and events that have shaped Penrith into the city it is today.
Enjoy a cruisy lunch on the Belle

The Nepean Belle Paddle Wheeler is one of Penrith's most iconic attractions. The Mississippi-style paddle wheeler has been cruising the river for over 35 years offering visitors and locals alike the chance to experience Penrith from a unique point of view. The Nepean Belle runs Devonshire tea, lunch and dinner sightseeing cruises that take passengers down the mighty Nepean River into the picturesque Nepean Gorge. Delight in the old-world charm of the Nepean Belle as you relax and enjoy a delicious meal before continuing your day in Penrith. Bookings essential.
Visit one of the world's best chocolate makers
Did you know Penrith is home to one of the world's best chocolate makers? Nestled away in Emu Heights (at the foot of the Blue Mountains) you'll find Zokoko. Winner of numerous international awards, Zokoko is known for their traditional bean to bar chocolate making process.
Owner and head chocolate maker Michelle Morgan sources cacao beans from all over the world for small batch roasting (there's no mass production lines here) which makes for some of the most delicious chocolate you will ever taste. Pair your chocolatey purchases with a delicious coffee and let the sugar rush reenergise you for the afternoon's adventures. Closed Sundays.
Step back in time at Fernhill Estate

Step back in time with a visit to the historic Fernhill Estate. Recently acquired by the NSW Government, exciting plans are currently being developed for the preservation and future use of the Estate. Enjoy an early look at the stunning property, via a 2.6km walking trail between on Sundays 10 am -12.30 pm and 1 pm - 4 pm. The walk takes in Fernhill Estate's green setting, and the exterior of the property's historic homestead. Visitor restrictions apply and bookings are essential, click here for details.
Settle in for a dinner to remember in Mulgoa
In our opinion the best way to end your day of sightseeing is with some great food and living history at Settlers Mulgoa. Situated on almost an acre of scenic farmland in the sleepy Mulgoa Vallery, Settlers was originally built for the Mulgoa Irrigation Company around 1893. Since then the building has known many functions as the original Mulgoa Police Station in the early 1900's, a restaurant in the 1970s and most recently a wedding venue before it was bought by the current owners in 2016. Lovingly restored in line with heritage guidelines, Settlers has a new lease on life and is the perfect place to catch up with friends, reflect on the day and enjoy a rustic home cooked meal with a beer or wine in hand.
Stay
Penrith has a variety of accommodation options to suit all groups and budgets, check them out here.
*Please note visitor restrictions may apply at some venues, we recommend checking these restrictions with each venue and where possible making a booking before visiting.