Unique experiences and workshops in Penrith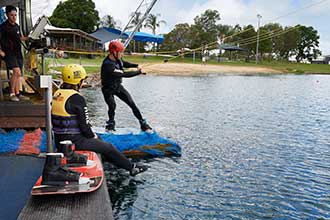 Pursue your passion, follow your interests, develop a skill or do something out of the ordinary in Penrith this winter.
With winter coming on it's easy to get into hibernation mode, stay home or just do the usual domestic routines. Fight off those winter hibernation feels by getting out and learning and doing something new this year!
While there's a full workshop calendar on Visit Penrith, we'd also like to give you the inside scoop on some of the hidden gems that you may not have heard of. Here's a few of our favourites:
The Creative Fringe is a great collaborative space that hosts a range of different workshops throughout the year. They've hosted everything from hair braiding to pottery, knitting to speed dating sessions. Check out their full upcoming calendar here, which includes a Frida, Sangria and Ceramics Night, Everlasting flower arranging workshop, and a Resin jewellery workshop later in June.
The Joan is running a series of Art and Music Talks this year allowing participants to find out about exceptional masterpieces and explore the stories behind artists, composers and musicians. Sessions begin at 11am and finish at 12.30pm with a short break in the middle. Each talk will also incorporate a short Q&A at the end. Find out more about upcoming talks here.
Cables Wake Park offers one on one and group lessons all year round for total beginners through to advanced riders hoping to hone their skills. Their expert coaching combined with personalised access to the park's world-class facilities deliver the ultimate wakeboarding experience for all ages. Although we strongly suggest a wetsuit during winter months!
If you have ever wanted to feed a lion, then the Zambi experience allows you to do just that! Zambi Wildlife Retreat is a wildlife park in the Penrith area with a difference. Designed for animals that have retired from the circus, entertainment industry, zoo breeding programs and private ownership, they offer prearranged experiences for visitors to learn more about their animals and offer a unique hands-on option to meet (and feed) them. Bookings are essential.
The best bit about all these upcoming workshops and experiences is they all offer gift vouchers which are perfect for that hard to buy for friend or family member.
For all the children out there, don't think that the learning stops when school does. There are plenty of learning experiences and workshop style sessions within our school holiday events. The Penrith Regional Gallery workshops are based on the current exhibition are always extremely popular. The whole family can get involved in a family tour and workshop on the 3rd of July, so it isn't always just for the kids either.
Need more ideas? Check out the workshop calendar.