Your action packed adventure in Penrith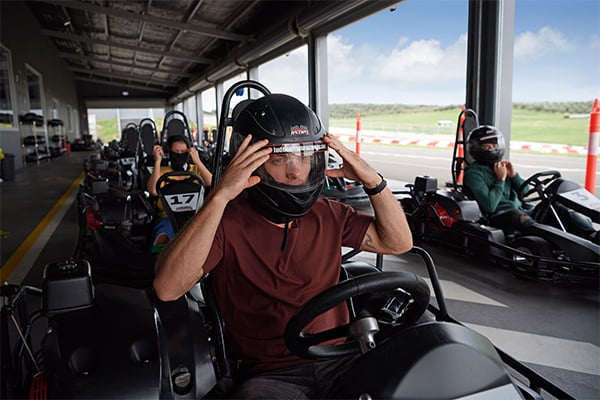 Push your boundaries, test your limits and have a whole lot of fun.
There's no shortage of action-packed experiences in Penrith; we're not known as the Adventure Capital of NSW for nothing! From indoor skydiving to jet packing, go-kart racing to aerial treetop adventures – the options are endless, and it's up to you how high and how fast you go. Is the sky the limit? Will the pedal hit the metal? Your adventure is in your hands, we're just hear to give you some ideas…
Hit the heights
Experience the exhilarating rush of skydiving at 14,000 feet without having to jump out of a plane in iFLY Indoor Skydiving's specially designed vertical wind tunnel. Live out your James Bond fantasies with a high pressure water-powered flight from Jetpack Adventures. Scale a rock wall at The Climbing Centre and tackle a ropes course six storeys high at Skypeak Adventures.
The need for speed
Hit speeds of up to 75km per hour as you zip around the 12 high speed corners of the Pro Circuit go kart track at Luddenham Raceway. Test your skills on a wakeboard, kneeboard or waterski at Cables Wake Park. Or if you'd prefer to let someone else take the wheel, hop on the back of a motorcycle for a chauffeured adventure with Vista Adventure Tours or Wild Ride Australia.
Challenge your friends
There's nothing wrong with a little healthy competition between friends. Split into teams and tackle the challenging course at Penrith Whitewater Stadium (closed 10 June-31 August). Weave through an abandoned city at Luddenham Raceway Paintball, hit the most bullseyes at Throw Axe and challenge them to a game of Footgolf at The Colonial Golf Course. Or put your heads together and solve the puzzles to unlock the doors at Narrow Escape Room.
MUST DO ACTIVITIES