The best youth activities in Penrith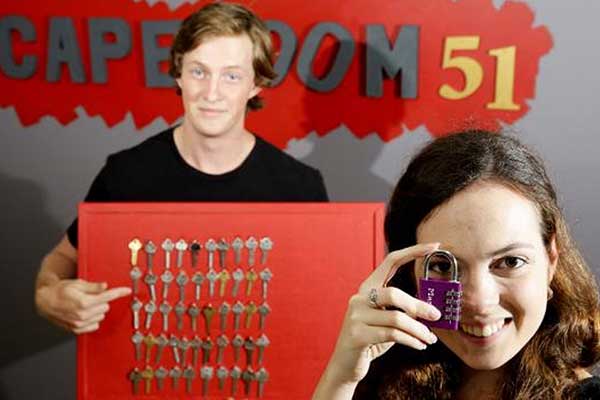 With Youth Week being celebrated from 13-22 April across NSW, there's no better time to focus on some of the unique things Penrith has to offer for young people.
When they're not at home or at school, lost in their mobile phones or computers, or just hiding out in their bedrooms we know that young people (we're talking 15-19 years old) just love to hang out with their friends.
Finding fun and affordable things to do with a group of friends can be difficult, but luckily not in Penrith.
Penrith is the place for young people to be active in the great outdoors, experience adventure at its very best, enjoy delicious food or create memories with their friends!
So next time you hear those dreaded words 'I'm bored!"... just refer to the list below. You're welcome.
Action and adventure
Don't let them climb the walls at home, when they've got energy to burn there's lots of ways young people can be active and have fun.
At Escape Room 51 you'll need to follow clues, crack puzzles, solve problems and complete physical challenges to make it out. It's an adventure game for anyone aged 16+ (or 10+ if accompanied by an adult) where 2-6 players are locked in a room and need to work together to solve a series of puzzles in under 60 minutes.
For some friendly competition in the great outdoors, groups of friends can head to Luddenham Raceway or Luddenham Raceway Paintball. Skate or scoot into one of Penrith's local skateparks or reach new heights at the ultimate aerial adventure park and tree climb experience at Skypeak Adventures.
Penrith's newest attraction Throw Axe is also sure to get the adrenaline going for anyone over 18 (16-18 year olds can participate if accompanied by a paying adult) or check out other exciting adventures in Penrith.
Food for fuel
There's nothing more scary than when a hungry teenager turns into a hangry teenager. So when the tummy starts rumbling, there's a smorgasbord of cafes and restaurants serving up all their faves.
Head to High St Social for woodfired pizza and cheeseburger spring rolls (yes, you read right) and so much more or to Burgerhead to see why they're known far and wide for their burgers.
Or for a quirky combination of food and sport, check out Downtown Brooklyn with its rooftop basketball court. Yes, rooftop!
A weekend away!
After a big week at school or uni, sometimes a weekend away is just what is needs to refresh your body and mind.
Cables Wake Park offers dorm style accommodation which is great for large groups and a great option for friends trying to keep their costs down. See more group accommodation options.