Visit Penrith in August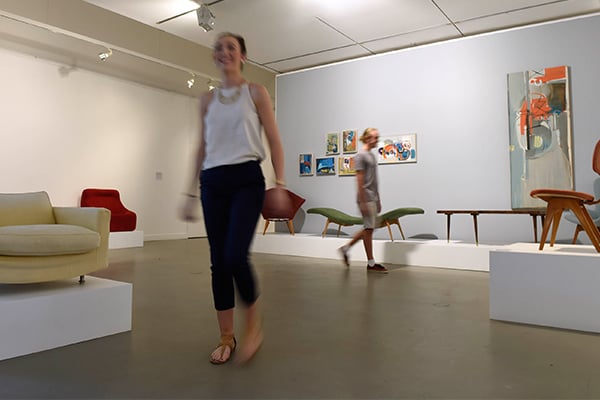 Come to Penrith in August for music, comedy, art, sports and more!
Music, music, music!
The music train is well and truly pulling into Penrith this month! No matter what your jam, Friday 5 August has you covered. Choose between The ACDC Story, an interactive rockumentary at Penrith Panthers, the Queen – Bohemian Rhapsody at the Joan Sutherland Performing Arts Centre (The Joan) or enjoy a Piano Adventure with Andrea Lam, where the audience will drive the program, from J. S. Bach right through to Bill Evans.
Other August musical highlights include, legends Ian Moss and Troy Casser-Daley performing at Penrith Panthers on Friday 12 August and The Best of the Bee Gees show with Colin "Smiley" Petersen at The Joan on Saturday 13 August. Also at The Joan, immerse yourself in the sounds of the subcontinent through the Swarna Swara show on Friday 19 August or enjoy a mid-week musical fix with Morning Melodies on Wednesday 24 August.
Are you having a laugh?
If comedy is more your bag, you'll need to flip a coin on Friday 19 August to choose between Comedy @ The Joan, 70-minutes of side-splitting entertainment from a fresh line-up of comics, or a night of non-stop laughs at the Panthers Comedy Showcase with Vegas comedian Ash Fils-Aime, George Kapiniaris, Stephanie Broadbridge and more.
August art
If you love art, Penrith Regional Gallery – Home of the Lewers Bequest is your go to destination this month. Four stunning exhibitions will run until Sunday 14 August – Christine Dean From the Collection, Linda Brescia's A Girl Like You, Todd McMillan and Sarah Mosca's Sunrise Sunset and Cooee-Mittigar (which means Come Here Friend), a collection of works by Leanne Mulgo Watson and an invitation to yana (walk) on Dharug Country.
On Saturday 6 August, you can listen to the voices of the Skirts, a group of women from Kingswood who worked with Linda Brescia as part of her A Girl Like You exhibition. The Skirts will perform their Manifesto live at the gallery for the first time.
On the track and the paddock
Fancy a night at the Dogs? Head to Penrith Paceway on Wednesday 3 August for the Greyhound Racing. And if you need a reason to stay the night, the dogs will make way for the horses on Thursday 4 August when Harness Racing comes to town.Need more? Catch Greyhound Racing four times a week and harness racing weekly at Penrith Paceway.
The Panthers are having another cracker of a season and we couldn't be prouder! Be part of the Home Game crowd on Thursday 11 August and cheer for the reigning Premiers as they take on Melbourne Storm. Go the mighty Panthers!
It's showtime!
Penrith Show is a winning combination of old-world tradition and modern-day fun. Head to Penrith Showground on Saturday 27 and Sunday 28 August to enjoy ringside action, rides, entertainment, a world of delicious food and more. Make a weekend of it! Start your Saturday with a Park Run at one of three great Penrith locations and, later in the day, book yourself in for a Psychic Cruise on the Nepean Belle Paddlewheeler. On Sunday, stretch your legs on the Fernhill Walking Trail before heading to Model Park Open Day to immerse yourself in the world of model cars, planes, trains and more.
There's lots more to see and do in Penrith this August. Find out more at our Upcoming Events page.